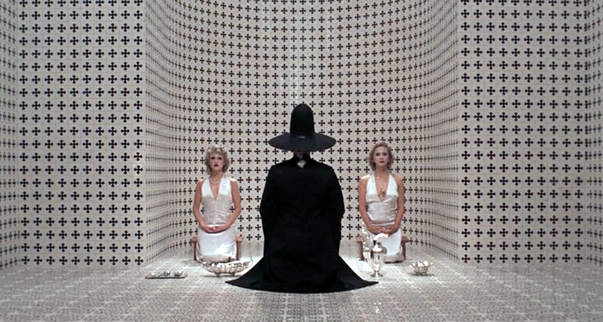 The Holy Mountain
Directed by: Alejandro Jodorowsky
1973 | Mexico | 115 minutes
| | |
| --- | --- |
| Screening | Saturday, November 4, 2017, 7pm |
Reserve Now
The scandal of the 1973 Cannes Film Festival, writer/director Alejandro Jodorowsky's flood of sacrilegious imagery and existential symbolism in The Holy Mountain is a spiritual quest for enlightenment pitting illusion against truth. The Alchemist assembles together a group of people from all walks of life to represent the planets in the solar system. The occult adept's intention is to put his recruits through strange mystical rites and divest them of their worldly baggage before embarking on a trip to Lotus Island. There they ascend the Holy Mountain to displace the immortal gods who secretly rule the universe.

This film is presented in conjunction with the exhibition Mundos Alternos: Art and Science Fiction in the Americas, on view at UCR ARTSblock from September 16, 2017 through February 4, 2018. The film program is curated by Sherryl Vint, Director of the Speculative Fiction and Cultures of Science program at UCR, with support from Nikolay Maslov, Curator of Film and Media Projects at UCR ARTSblock.
Mundos Alternos: Art and Science Fiction in the Americas is part of Pacific Standard Time: LA/LA, a far-reaching and ambitious exploration of Latin American and Latino art in dialogue with Los Angeles, taking place from September 2017 through January 2018 at more than 70 cultural institutions across Southern California. Pacific Standard Time is an initiative of the Getty. The presenting sponsor is Bank of America.
Major support for Mundos Alternos is provided through grants from the Getty Foundation.