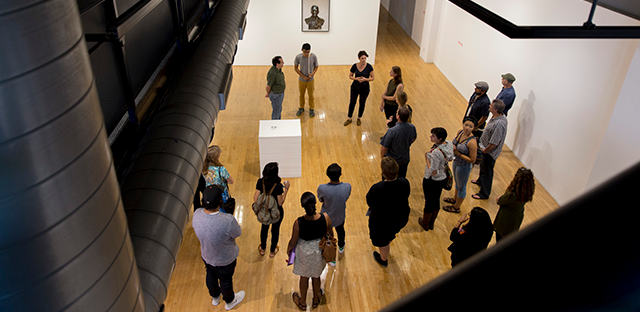 Educational Tours | Winter 2018


Explore for the exhibition
Fictive Kin
at the ARTSblock with your school or group. Tours are lead by museum staff. Reservations for guided tours require advanced notice. See options below under BOOKING SCHOOL + GROUP TOURS.
Fictive Kin
presents works by three contemporary artists, Sarah Conway, Annette Kelm, and Kim Schoen, who connect the visual languages found in commercial art and advertising to develop an awareness of objects and how we experience them in photography. Read more about the
current exhibition
.
Guided tour of
Fictive Kin
will be available through advanced reservations from March 1 through May 6.
Booking School + Group Tours
Reserve a guided tour of Fictive Kin. Below is a list of tour group options. Further questions can be directed to the 
Museum Education Department
.
Museum Educator Guided Tours for School Groups or Classes
Reservations require three weeks advanced notice. Please complete the Tour Request Form to begin your inquiry on available dates.
Fee: $100 up to 30 students. Schools must provide 1 chaperone per 10 students. $50 for Seniors 55+, up to 15 individuals.


Self-Guided Tours for Groups or Classes
Explore at your own pace! Please email our Museum Education Department two weeks in advance.  Self-guided tours are appropriate for high school students and older for groups of 10 or more individuals.
Fee: $50 up to 20 individuals. Self-guided tours for High School groups will need to provide 1 adult chaperone for every 10 students.


Guided Tours in Sign Language
For tours conducted in American Sign Language, complete a Tour Request Form and submit it three weeks prior to your desired tour date. Fee: $50 up to 10 individuals.


Guided Tours in Spanish
Requests for group tours conducted in Spanish require three weeks advance notice. Completed the Tour Request Form to book your tour. Fee: $50 up to 10 individuals.