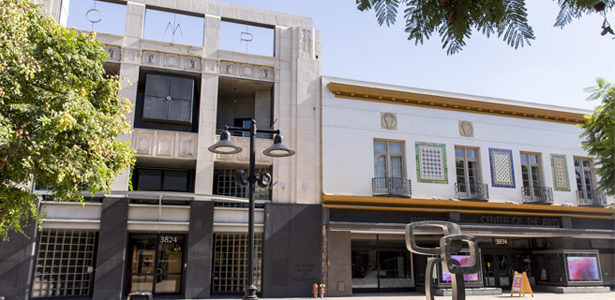 UCR ARTS
UCR ARTS opened to the public in 2010, bringing together the California Museum of Photography (founded in 1973), the Jack and Marilyn Sweeney Art Gallery (1963), and the Barbara and Art Culver Center of the Arts (2010). Located three miles from UCR's main campus, UCR ARTS is located on a single block in adjacent historical buildings along the pedestrian mall in downtown Riverside. Housed in two renovated department stores from the late 19th and early 20th centuries, UCR ARTS' adaptive reuse enlivens the city's downtown core.
By merging the already established photographic museum and university art gallery with the new, multi-disciplinary Culver Center, UCR ARTS serves as a cultural anchor for both the University and the broader Inland Empire communities. UCR ARTS organizes provocative and timely art exhibitions, performances, screenings, and other programs with the aim of invigorating the cultural life of artists and residents of Southern California, nurturing creative and critical thinking on campus and in the community, and promoting the importance of the arts for a healthy society. UCR ARTS offers innovative programs that engage diverse audiences, nourish the imagination, and challenge assumptions.
The extensive art, photography, and research collections of the CMP and Sweeney Art Gallery make UCR ARTS an important destination for audiences as well as researchers working in a wide range of fields.
UCR ARTS' activities embody UCR's commitment to broadly-based public education and cutting-edge research. As a university museum and art gallery, 

UCR ARTS is committed to offering students opportunities for professional museum work. Students from UCR and elsewhere are involved under the aegis of independent course status, internships, work-study, and as volunteers.
UCR ARTS is generously supported by UCR College of Humanities, Arts, and Social Sciences, and the City of Riverside.
California Museum of Photography
The California Museum of Photography at UCR ARTS is devoted to showing the work of contemporary artists who use photography, collaborating with UCR faculty and students to bring their varied expertise to the public in exhibitionary form, and to preserving and making accessible its vast holdings of photography and related apparatus.
Jack and Marilyn Sweeney Art Gallery
The Sweeney Art Gallery presents significant regional, national, and international art, and hosts annual MFA and Senior Show exhibitions for students in UCR's Department of Art. As an artistic laboratory, the gallery engages diverse audiences with exhibitions committed to experimentation, innovation, and the exploration of art in our time. Since 2010, the Sweeney Art Gallery is located in the Culver Center, and exhibitions frequently expand into the Culver Atrium.
The Sweeney's permanent collection focuses on work produced since 1990.
Barbara and Art Culver Center of the Arts
The Barbara and Art Culver Center of the Arts hosts art installations, a weekly film program, and musical, dance, and theatrical performances in a dynamic setting. Recognizing that artists play a crucial role in society, the Culver Center also hosts a robust program of lectures, symposia, and community forums with artists, filmmakers, playwrights, dancers, and musicians. The main level is home to an expansive atrium gallery beneath a 40' high skylight, the Sweeney Art Gallery, a 72-seat screening room, and a forthcoming café. On the second level, the Culver Center houses a Media Lab, two dance studios with sprung wood floors, a black box equipped with green screen, and a sound recording studio. In the lower level, the California Museum of Photography's important Keystone-Mast Collection of stereographs is preserved in state-of-the-art seismically isolated cabinets.