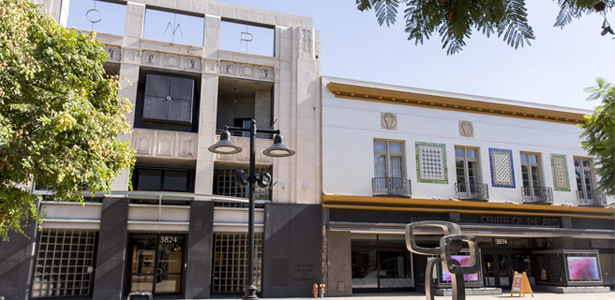 UCR ARTS
3824 + 3834 Main Street 
Riverside, CA 92501
Tel: (951) 827-4787
ADMISSION
General admission: $6.00
Seniors, Jurors, and Veterans: $3.00
College Students: Free
Children under 12 accompanied by an adult: Free
UCR Faculty and Staff (must show valid ID): Free
Museum Members: Free
UCR ARTS proud to be a part of more than 2,000 museums nationwide, will open their doors for free to active duty military personnel, including National Guard and Reserve, and up to 5 family members this summer from May 18 to September 2, 2019. Valid military ID required.

HOURS OF OPERATION
Public/Gallery Hours
Culver Center of the Arts
Tuesday - Thursday: 12pm – 5pm
Friday & Saturday: 12pm - 7pm 
Sunday: 11am - 4pm 
California Museum of Photography
Tuesday - Saturday: 12pm – 5pm
Sunday: 11am - 4pm 
First Thursdays - Downtown Riverside Art Walk
5pm - 9pm (FREE Admission)
First Sundays - Family Events (October through May)
11am - 4pm (FREE Admission)
Screening Room - Films
Evening films typically begin at 7pm, Saturday Matinee films begin at 3pm. 
Ticket prices for UCR ARTS regular weekly film series are $9.99 per person in the evening, $8.00 for the Saturday Matinee, and $5 for students anytime.
ADMINISTRATIVE HOURS
Monday-Friday 9am - 5pm
HOLIDAYS OBSERVED
UCR ARTS is closed during the following holidays: New Year's Eve, New Year's, Easter, Independence Day, Veterans Day, Thanksgiving (and the day after Thanksgiving), Christmas Eve, and Christmas. 
PARKING
Parking lot rates are reasonable from 9 - 5, Monday – Friday and garage 2 & 6 offer 90 minutes free. Parking is free in all lots before and after that time period and on weekends.