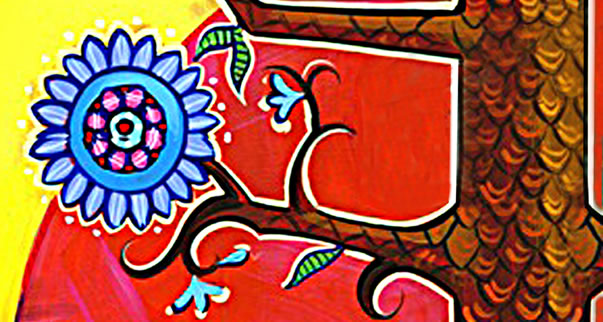 A Flowering Tree
Pulitzer Prize Winning Composer John Adams
Culver Center of the Arts
| | |
| --- | --- |
| Performance | Friday, November 11, 2011, 8pm - 11pm |
Tickets available for Fridays performance only.

Described as a magical tale of love, destruction, betrayal and redemption, the Riverside Lyric Opera will present the Inland Empire debut performance of "A Flowering Tree" by John Adams, at the University of California, Riverside, Barbara and Art Culver Center of the Arts on November 11. This production is a collaborative project of the Riverside Lyric Opera and UCR Culver Center of the Arts.

A Flowering Tree is the latest opera from celebrated composer John Adams, described by The New Yorker as "...the most vital and eloquent composer in America". His works include "Nixon in China", "Short Ride in a Fast Machine", and "On the Transmigration of Souls" - a 9/11 memorial piece for which he won the Pulitzer Prize.

A Flowering Tree was inspired by Mozart's The Magic Flute, and is based on an ancient folktale from India, telling the story of Kumudha, a poor but beautiful girl, who in order to help her family transforms into a flowering tree, whose blossoms bring her both joy and pain, love and redemption. A Flowering Tree is full of symbolism and duality - dark and light, extreme joy and extreme pain, innocence and wisdom, purity and sensuality, spirituality and carnality. Symbolism and duality permeates the text, the music and the characters. Rich in harmonic and textural color, with contrast as the key to the main message, A Flowering Tree is a very moving story, with stunning dialogue, intense sensual/erotic scenes, beauty and sadness.

This production is built around three principal performers: Soprano Stephanie Aston, who specializes in contemporary music and modern opera, has performed to great acclaim in several American and world premieres of music by John Adams, Luigi Nono, Chris Dench and Pascal Dusapin. She\'s performed with the Los Angeles Philharmonic Green Umbrella series at Walt Disney Concert Hall, the New Century Players at the REDCAT Theater and with the San Diego and La Jolla Symphonies. Tenor Jorge Garza, a graduate of the Juilliard School and the Manhattan School of Music, has participated in the country's most prestigious young artists programs including Santa Fe Opera, Glimmerglass Opera, Wolftrap Opera, the San Francisco Opera's Merola Program and finally Los Angeles Opera's Young Artists program. And bass, Nicholas Shelton, whose dark, piercing voice, has made him a rising American presence.

With its acquisition of this production, the Riverside Lyric Opera takes a commanding step forward in the national and international world of classical music. The opera is co-created by composer John Adams and director Peter Sellars and the company becomes only the tenth city internationally to have the privilege of featuring this acclaimed production.

About Riverside Lyric Opera
The Riverside Lyric Opera is a professional regional opera company, based in Riverside, California, whose mission is to enrich lives through operatic performances, community development and educational programs that involve our Inland Empire communities in all aspects of productions, while reaching out to the larger operatic community for artistic support and recognition.

For more information about A Flowering Tree and other Riverside Lyric Opera events, visit their website RiversideLyricOpera.org or call (951) 781-9561.

This is a collaborative project of the Riverside Lyric Opera and UCR Culver Center of the Arts.
Presented by Riverside Lyric Opera