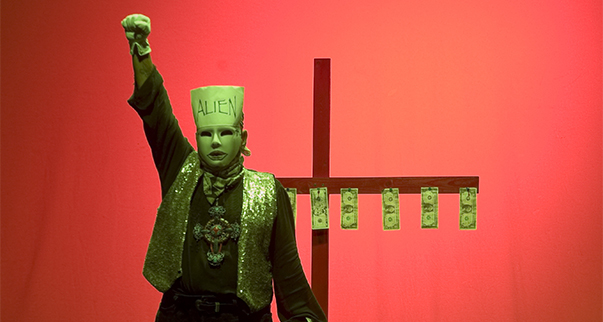 ALIENS, IMMIGRANTS & OTHER EVILDOERS
A sci-fi Latino noir solo play written and directed by José Torres-Tama
Culver Center of the Arts
Free Admission, Limited Seating
| | |
| --- | --- |
| Performance | Thursday, March 12, 2015, 7pm - 9pm |
                    "Since the Pilgrims arrived without papers, why were they not deported?"
Aliens, Immigrants & Other Evildoers is a sci-fi Latino noir solo written by NEA award-winning performance artist José Torres-Tama. Taking Immigration head-on, he satirizes the status of immigrants as "extraterrestrials" through a sci-fi prism informed by comic film shorts, and deftly shape shifts into a variety of "aliens" who expose the hypocrisies of a system that vilifies the same people whose labor it exploits. Considering the recent refugee crisis surrounding Central American immigrants children and the federal court induction on President Obama's Executive Order, this performance serves as a call to action on immigration reform in the U.S.  Aliens... is visually engaging, profoundly moving, politically provocative, strategically comic, and puts a heart and face on the persecuted immigrants of FreedomLandia.

                                        "NO GUACAMOLE for Immigrant Haters!"
Aliens... was developed through a National Performance Network Creation Fund award from the NPN, and commissioned by the Ashé Cultural Arts Center in New Orleans, MECA in Houston, and GALA Hispanic Theatre in Washington, DC.
José Torres-Tama treads that dangerously vague turf of performance art gracefully...  with dexterity and daring.                                                             ---The Village Voice (New York)
Powerful performance art piece lets audience feel mistreatment of Hispanic immigrants... Torres-Tama's moving and visually stimulating piece holds a mirror--both literally and figuratively--up to the audience.
                                                                                                ---Times-Picayune (New Orleans)
An adroit performer and lucid writer, José Torres-Tama bravely takes us to the dark side where most dare not to go.                                                                           ---DC Theatre Scene
Presented by Segundo Jueves Latina/o Play Project. Support has been provided by UCR College of Humanities, Arts, and Social Sciences (CHASS) and the City of Riverside