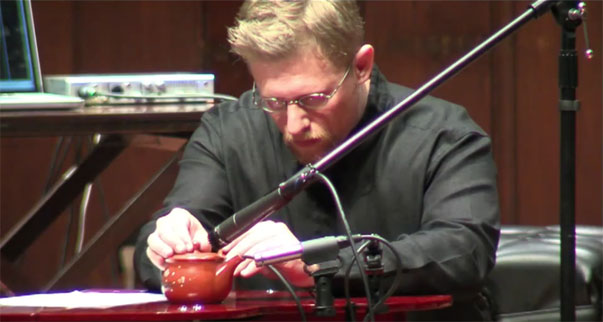 Beyond Twelve
reinventing the piano
Culver Center of the Arts
| | |
| --- | --- |
| Performance | Saturday, September 15, 2012, 4:30pm - 5:30pm |
Free Admission. No RSVP required.

For nearly two hundred years the pianoss design has been exactly the same: 12 keys/7 times, low-to-high/left-to-right. Period. But why 12...? Why left-to-right...? What if......

Beyond Twelve is a project that uses state-of-the-art physical modeling technology to break free from the constraints of this design - and the piano will never be the same again.

Concert pianist and MicroFest assistant director Aron Kallay commissioned new works from eight of America's most imaginative composers, with two ground rules: 1) Re-tune the keyboard, from extended just intonation to 88 equal-divisions of the octave and everything in between. 2) Re-map the keyboard, left can be right, high can be low; pitches need not be linear.

The concert will feature these inventive and visionary new works by Isaac Schankler, Brian Shepard, Kyle Gann, Aaron K. Johnson, Jason Heath, John Schneider, Vera Ivanova, and Tom Flaherty.

About the Artist:

Pianist/composer Dr. Aron Kallay has been praised as possessing "that special blend of intellect, emotion, and overt physicality that makes even the thorniest scores simply leap from the page into the listener's laps."

Aron is a champion of contemporary composers, microtonal music, and music that combines electronics with acoustic instruments. As such, he is dedicated to expanding the repertoire by commissioning new works that challenge the idea of what it means to be a pianist in the 21st century. He has appeared on numerous new music festivals, including MicroFest, Jacaranda, In Frequency, Hear Now, What?s Next, and the Other Minds Festival.

Aron is the co-director of People Inside Electronics (PIE), a concert series that features new and classic electro-acoustic music. Currently, Aron divides his time between practicing, performing, composing, writing about music theory and piano pedagogy, and teaching. He is on the faculty of the University of Southern California and Chapman University, where he teaches music technology, electro-acoustic media, and piano. Aron is an artist-in-residence with Catalysis Projects. Learn more about him at his website: www.aronkallay.com.

"Engaging" - Mark Swed, Los Angeles Times

"Imaginative" - Rodney Punt, Huffington Post

Aron has - "that special blend of intellect, emotion, and overt physicality that makes even the thorniest scores simply leap from the page into the listeners laps." - KPFK Radio

Make it an evening at Culver Center of the Arts. After the concert, take a break for dinner, and then return for the film at 7 PM, Amores Perros (2000), a film told in three stories, intersecting around a car crash, exploring forms of human loyalty or disloyalty in Mexico City. Frequently ranked as one of the top movies of all time with an Oscar nomination and 54 wins at festivals around the world, called by critics astonishing, startling, harrowing, and incredible.
Aron Kallay, Piano