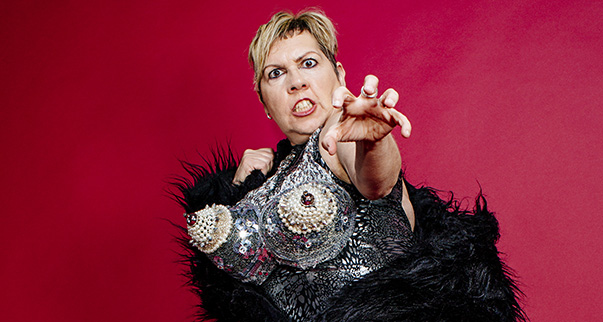 Carmelita Tropicana: Hybrid Alternos
Culver Center of the Arts
Free Admission!
| | |
| --- | --- |
| Performance | Saturday, February 3, 2018, 6pm |
In conjunction with the exhibition Mundos Alternos: Art and Science Fiction in the Americas, Carmelita Tropicana (Alina Troyano) will perform Hybrid Alternos, an interactive performance in collaboration with her sister, filmmaker Ela Troyano. In a world where species are disappearing and new ones created, Hye, a human hyena hybrid, is a fugitive desperately seeking home in Nebula, the only nation that accepts subhuman hybrids and illegal androids. Hybrid Alternos explores the disappearance of animal species, current issues of immigration, and xenophobic discourse through a futuristic lens. 

RESCHEDULED FROM 1/27
A Q&A session moderated by Armando García, Assistant Professor in the Department of English at UCR, will follow the performance.

Photo by Carlos David