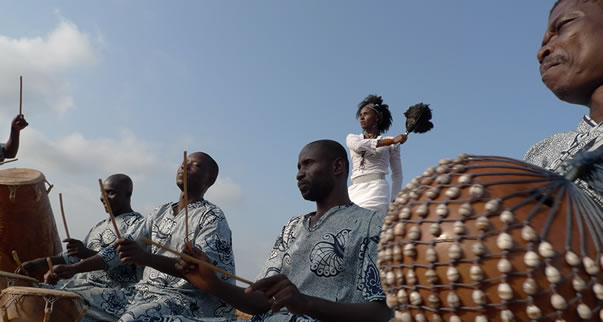 Choreographies of Access
Global dances, local knowledges, (mis)translated bodies
Culver Center of the Arts
| | |
| --- | --- |
| | Monday, May 2, 2011, 12am |
| | Tuesday, May 3, 2011, 12am |
| | Wednesday, May 4, 2011, 12am |
Choreographies of Access: Global Dances, Local Knowledges, (mis)translated Bodies is a three-day exploration of contemporary international choreographic practices through performances by Sheron Wray and Nunu Kong, followed by a discussion between them and University of California, Riverside Dance Faculty members. Choreographies of Access is a collaboration between the Culver Center of the Arts Performance Series and the UCR-BYPED Dance Tank Meetings - Spring 2011.

May 2, 2011 | 8:00 PM
Ritual Remix: The Etutu Project
Sheron Wray continues her investigation into forms of improvisation; engaging aesthetic theories derived from West African performance spectacles. A site- specific performance followed by a showing of archival video from Guinea Conakry.

Sheron Wray is an artist whose primary focus is dance. This is often in conjunction with other creative forces, music and technology being key. She is a choreographer, dancer and researcher who takes an exceptional interest in Jazz as a fueling agent to developing her work and philosophy.

May 3, 2011 | 8:00 PM
Dance and Performance Underground in China
A video lecture and site specific performance by Nunu Kong addressing her project brand nu Dance and the challenge of imagining and creating art from scratch in China.

From 1995 to 2004 nunu kong (Wu Yandan) attended the Beijing Dance Academy including a special 4-year program created by Yang Mei Qi in Guangdong to major in Contemporary Dance Choreography and Performance. Upon graduation she joined the Jin Xing Dance Company in Shanghai for one year and concurrently co-founded the performing collective Zuhe Niao. The collective went on to perform in many european theaters and took home the ZKB prize at the Theater Spektakel Festival in Switzerland with their piece, Tongue's Memory of Home.

May 4, 2011 | 5:00 PM
Dance Tank Discussion
Join Sheron Wray, Nunu Kong, and faculty members of the UCR Department of Dance for a discussion on Dance Tank.


Supported by UCR Gluck Program for the Arts and the UCR Department of Dance