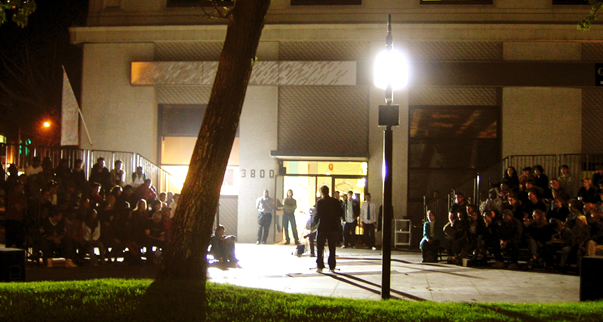 Countdown to Culver!
Verbal Coliseum: Spoken Word @the Block
UCR ARTS
| | |
| --- | --- |
| Performance | Thursday, May 6, 2010, 7pm - 9pm |
In anticipation of the October gala opening of the Culver Center of the Arts, Sweeney Art Gallery presents Countdown to Culver!, a series of public events on First Thursday ArtsWalks from May to September in downtown Riverside. The performances will occur on the pedestrian mall in front of the Culver Center, and will showcase its interdisciplinary future. Both cutting-edge and collaborative, Countdown to Culver! will bring nationally recognized performers to interact with the Riverside community through such genres as spoken word poetry, technology, dance, and sound. Organized by UCR Sweeney Art Gallery and curated by assistant director, Shane Shukis (sshukis@ucr.edu, 951-827-1467).

Spoken Word poetry slam held from the historic second floor balconies of the UCR Culver Center of the Arts in downtown Riverside, melding music and movement to investigate identity, both personal and collective, and explore a sense of place and the human experience. Nationally recognized and HBO Def Poetry alums Joe Hernandez-Kolski and Besskepp will headline the event from 7-8, followed by spitters and sound souljahs from the Inland Empire from 8-9pm. A two-time HBO Def Poet, Joe Hernandez-Kolski has shared the stage with everyone from Saul Williams to John Mellencamp to Carlos Mencia. Born and raised in the City of Chicago, Joe graduated from Princeton University where he majored in Civil Rights History w/minors in African-American Studies and Theater & Dance. Besskepp (Cory Cofer) is an HBO Def Poet, an award-winning teacher, and author of the book Up the Street Around the Corner.