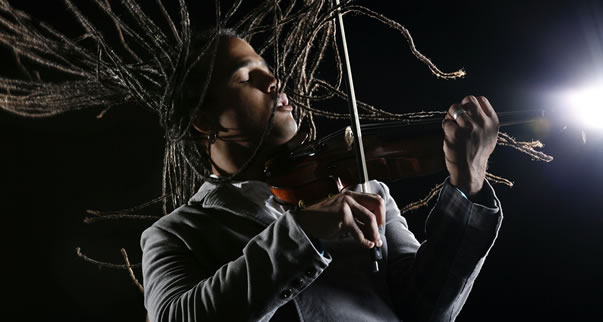 Daniel Bernard Roumain
Woodbox Beats & Balladry
Culver Center of the Arts
| | |
| --- | --- |
| Free Performance | Saturday, January 29, 2011, 8pm - 10pm |
Haitian-American violinist, composer, performer, and band leader, Daniel Bernard Roumain (DBR) is "as omnivorous as a contemporary musician can get", (New York Times). A sonic pioneer, DBR's genre-bending compositions have made him the darling of the concert hall and club circuit alike. His genius for fusing classical music, hip-hop beats, concert violin, and progressive electronic beats, has led to collaborations with everyone from The Sphinx Symphony Orchestra and Philip Glass to DJ Spooky, Bill T. Jones, 2 Live Crew and Lady Gaga. A thoroughly modern master, he channels both Paganini and Prince with equal aplomb for a thoroughly classical-urban sound.

DBR lets loose with his newest release, Woodbox Beats & Balladry (Thirsty Ear Recordings) strutting his signature six-string amplified violin with extended techniques, effect pedals, and additional MAC-based processing for a total sonic experience. He is joined by Elan Vytal aka DJ Scientific, who adds precisely engineered hip-hop beats and scratched rhythms to form a matrix of urban textures for a completely unique, contemporary sound.

Although this performance is FREE, seating is limited and reservations are strongly recommended. To reserve a ticket for this event click the RESERVE NOW! button. (4 reservation limit per order)

IMPORTANT INFORMATION ABOUT THIS RESERVATION:

- This reservation is considered a place holder only and will be honored up until ten minutes of the performance. Remaining guests will be let in on a first come, first serve basis. Make your reservation count by coming early.

- Seating for Culver Center performances is not assigned. Your best guarantee for optimal seating is to arrive at least thirty minutes prior to performance.
UC Riverside Presents