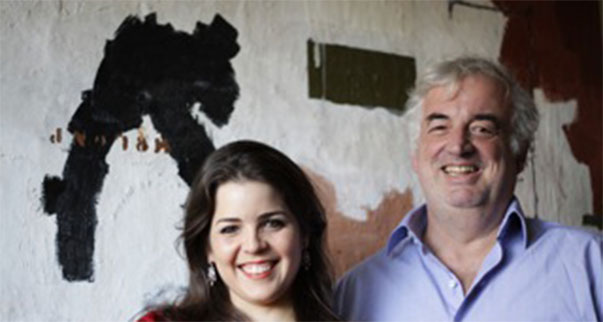 Duo Materiales
Concert, Lecture, and Workshop
Culver Center of the Arts
Free Admission, Open to the Public
| | |
| --- | --- |
| Lecture and Workshop | Wednesday, January 22, 2014, 7pm - 9pm |
| Concert | Thursday, January 23, 2014, 8:00pm - 9:30pm |
Caroline de Comi - soprano
Joaquim Abreu - percussion

The Duo Materiales - Caroline de Comi, soprano & Joaquim Abreu, percussion - performs a program of contemporary music for voice and percussion by Brazilian composers, including world premiere by Paulo C. Chagas, Aylton Escobar, Gilberto Mendes and Mauricio De Bonis.

The Duo Materiales have collaborated extensively with Brazilian contemporary composers. In 2006 they released two CDs featuring works by modernist composers of the second generation such as Ernst Widmer (1927-1990), Almeida Prado (1943-2010) and Willy Correa de Oliveira (1939). The CDs has awarded with the Gold Diapason (2007) both in Brazil and France. The Duo Materiales has performed in many venues in Brazil and Europe, particularly in France. This renowned group will have their first appearance in the US in the ARTSBlock.

The combination of voice and percussion offers new possibilities for contemporary music. The voice is a powerful mean for expressing emotion and identity and the percussion instruments add timbers to music. Brazil enjoys a tradition of musical excellence in both voice and percussion: the traditional Portuguese elements bring a melodic richness to the vocal component of this music, while the percussion embodies the carnal and exuberant heritage of Afro-Brazilian music and culture. In the late 20th century many Brazilian composers have produced works for voice and percussion that have been performed by distinguished interpreters including the Duo Materiales.

This event is made possible by hte UCR Department of Music, Culver Center of the Arts and the Marylu Clayton Rosenthal Endowment.