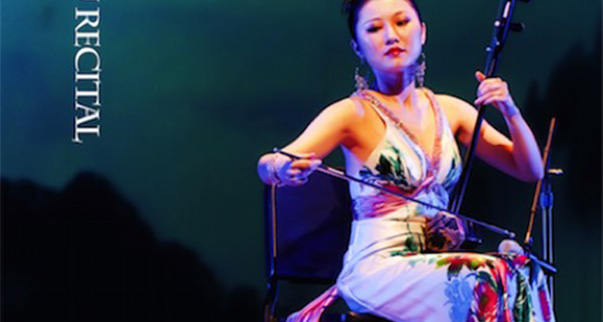 Chuan Qin's Erhu Recital
Culver Center of the Arts
Free Admission
| | |
| --- | --- |
| Performance | Saturday, May 9, 2015, 7pm |
Chuan Qin, holding the dual master's degrees of business administration and finance from Anderson Graduate School of Management of UC, Riverside, is also a professional Erhu performer internationally.
Her instrument, Erhu, is one of the most important string instruments in traditional Chinese music. Long neck, small body, two strains and one bow, look simple but this over a thousand-year ancient Chinese instrument will lead you to a different music world.
This concert is the bridge of eastern and western music. You will enjoy several traditional Chinese songs with new modern arrangement. Jasmine, a well-known classic song from China, will be new arranged after first original part. Memory of America will remind you of the familiar melodies from the past, but it is performed by Erhu. Interested to know how birds sing in the forest? With Erhu, Chuan will also show you the answer in the concert. There will be also some classic folk songs to express the beautiful Chinese culture.
The innovation is not only about the songs. Other instruments will also be added to the concert. Jeff Kaatz, a professional cello performer, will join Chuan in the song called Chrysanthemums Terrace. Sharing some common culture, Chuan will perform a Uygur song with a Turkish guest performer, Aytac Sogut. His instrument, Saz, also has a long history in Turkey.
Besides the guest performers, I would like to thank Dr. Paulo Chagas, the chair of UCR Music Department, for guiding me in the whole process of the concert. Also I would like to thank Dr.Arkadiusz Mironko, the Executive Director of Graduate Programs of Management, for helping me with the concert promotion. I also appreciate the Music Department of UCR as well as Anderson Graduate School of Management of UCR to support my concert. Last but not least, thank Culver Center for giving me the opportunity to perform.
Support has been provided by UCR College of Humanities, Arts, and Social Sciences (CHASS) and the City of Riverside