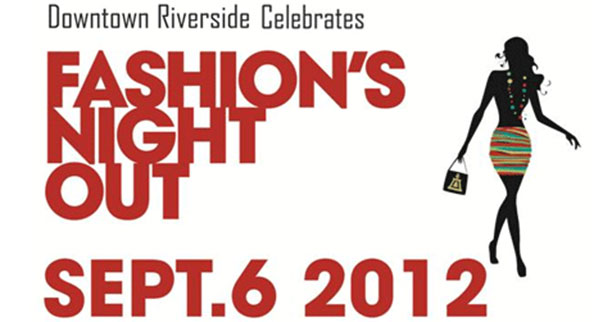 Fashion\'s Night Out
Free Admission to Culver from 6-9 PM
Culver Center of the Arts
| | |
| --- | --- |
| Arts Walk | Thursday, September 6, 2012, 6pm - 9pm |
Fashion's Night Out is a fashion and shopping extravaganza that was first launched in New York in 2009. Downtown Riverside first participated in Fashion's Night Out in 2011 and drew more than 1,500 fashionistas from all over the Inland region. With the success of last year's event, Downtown Riverside will once again celebrate Fashion's Night Out on Thursday, Sept. 6.

Downtown Riverside Celebrates Fashion's Night Out will also collaborate with the September Riverside Arts Walk to feature wearable art and fashion exhibits from various downtown galleries and fashion film features and performances at UCR Culver Center of the Arts.

Fashion's Night Out kicks off at 4 p.m. with downtown Riverside businesses offering in-store specials, meet-and-greets with local fashion designers, product sampling, demonstrations and more. At 6 p.m., the Main Street Fashion Show, produced in partnership with The Art Institute of California-Inland Empire will feature fashions from local retailers. The Hairstyling Competition for professional and student hairstylists will also take place at 6 p.m. at the Riverside Auditorium and Events Center. Then at 7 p.m., it's the launch of Aurea Vista, a Shopping Mecca, with a catwalk at the corner of University Avenue and Lemon Street.

Fashion's Night Out is hosted by the Riverside Downtown Partnership. For more information, contact Janice Penner at 951-781-7339. For information on the Main Street Fashion Show and retail participation, contact Phyllis Clark at 951-288-4375.