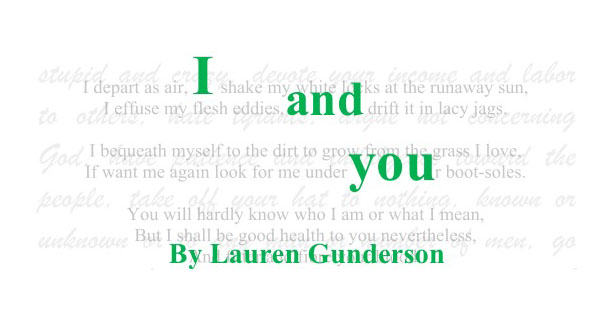 "I and You" a play by Lauren Gunderson
Culver Center of the Arts
| | |
| --- | --- |
| I and You | Friday, August 5, 2016, 7:00pm - 8:30pm |
| I and You | Saturday, August 6, 2016, 7:00pm - 8:30pm |
| I and You | Friday, August 12, 2016, 7:00pm - 8:30pm |
| I and You | Saturday, August 13, 2016, 7:00pm - 8:30pm |
The Wall Climbers Theatre Project, in conjunction with The Gestalt Theatre Project, presents the Inland Empire premiere of Lauren Gunderson's 'I and You,' running August 5th-13th.

 The Play:
One afternoon, Anthony arrives unexpectedly at a classmate Caroline's door, bearing waffle fries and a beat-up copy of Walt Whitman's "Leaves of Grass" - an urgent assignment from their English teacher. Homebound due to illness, Caroline hasn't been to school in months, but she is as quick and sardonic as Anthony is sensitive and popular. As these two let down their guards and share their secrets, the seemingly mundane poetry project unlocks a much deeper mystery that has brought them together. 'I and You' is an ode to youth, life, love, and the strange beauty of human connectedness.
'I and You' will be presented in the upstairs black box of UCR's Barbara and Arts Culver Center of Arts. Showtimes are Fridays and Saturdays, 7:00 p.m. (FOUR PERFORMANCES ONLY!) and the show is not quite 90 minutes long, no intermission. Tickets are $15 general admission and $10 for students, and are available at the door or in advance via www.MadelineWallTheatre.com. 
Support has been provided by UCR's College of Humanities, Arts, and Social Sciences (CHASS) and the City of Riverside.