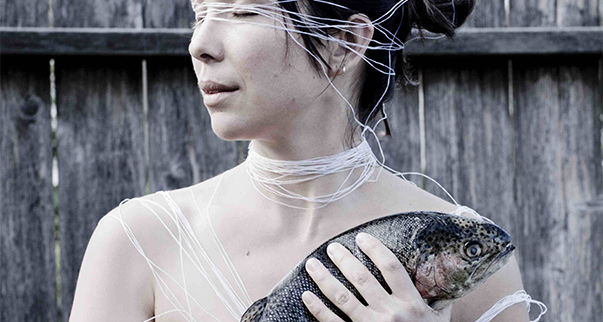 Indigenous Choreographers at Riverside
Work by Tanya Lukin Linklater and Emily Johnson
Culver Center of the Arts
Free Admission
| | |
| --- | --- |
| Laying our Foot Fall (Workshop - RSVP required) | Tuesday, May 5, 2015, 4:30pm |
| ICR Performance (discussion to follow) | Thursday, May 7, 2015, 7pm |
| ICR Opening featuring Jack Gray & Dakot-ta Alcantara-Camacho | Tuesday, May 5, 2015, 6:30pm |
| Symposium (Free with RSVP) | Friday, May 8, 2015, 9am - 5pm |
May 5th, 2015 ICR Opening:
    4:30 pm: Gather at Culver Center of the Arts for LAYING OUR FOOT FALL: HANDS (AND FEET)-ON WORKSHOP (RSVP requested (with shoe size) to: ucricrproject@gmail.com).  A vibrant contemporary Pacific dance/art workshop by Transformance Lab, fresh from Lenapehoking (New York City), merging urban hip hop culture with the desert. Art activities include personalizing a pair of white canvas shoes with Indigenous inspired motifs before rocking them out in an impromptu stage performance (later that evening).
    6:30 pm: Public invited to the Culver Center of the Arts for HOW WE SHOW UP.  A community gathering curated by Jack Gray, sharing performative activations of Southern Californian, Pacific Island, and other Indigenous places.
    7:30 pm: GUAHU GUAHAN.  Guåhu Guåhan (I Am the Place of Existence), a contemporary Chamorro bi-lingual physical theatre work, written, composed and performed by Dåkot-ta Alcantara-Camacho and directed by Jack Gray, that renews the collective shards of sacred identities in this, trans-Pacific ceremonial activation.
May 7th, 2015 ICR Performances:
The 2015 evening of contemporary Indigenous choreography, presented by the UCR Dance Department as part of the annual Indigenous Choreographers at Riverside project, features the work of two leading Native Alaskan Indigenous choreographers: Tanya Lukin Linklater and Emily Johnson.
Tanya Lukin Linklater's work the the is based on investigations of text from Lukin Linklater's memories of girlhood within complexities of race, gender and poverty in America in the 80's. As a child, she believed in education as an equalizer, even as she witnessed deep inequities around her. Lukin Linklater began these investigations in response to the attempted assassination of girls' education activist, Malala Yousafzai in the region of Swat Valley, Pakistan in late 2012. The text investigations are paired with research into portrayals of childhood in film, often in tragic circumstances, that become a catalyst for the development of choreography, by recreating scenes from film. Lukin Linklater uses repetition, recreation, and translation in video, text and live performance for the the.  Lukin Linklater will work ahead, remotely, with 3 UCR dancers (sending movement tasks and scores, and engaging via Skype) and then set choreography with those student dancers while she is at UCR.  
Emily Johnson's Be Mountain is a movement and story study influenced by Johnson's award-winning trilogy of works, The Thank-you Bar, Niicugni, and SHORE. Johnson writes, "Move like a mountain. Not as in still or huge. As in very, very clear. A mountain is a mountain. A dance is a dance. When I view a mountain my memories on mountains are conjured and my feelings for mountains rise. But they do not change the essence of the mountain I see. I see the mountain and I let the mountain be. When I dance I can let the dance be - be mountainous - be mountain-y. Be Mountain."
Support has been provided by UCR College of Humanities, Arts, and Social Sciences (CHASS) and the City of Riverside