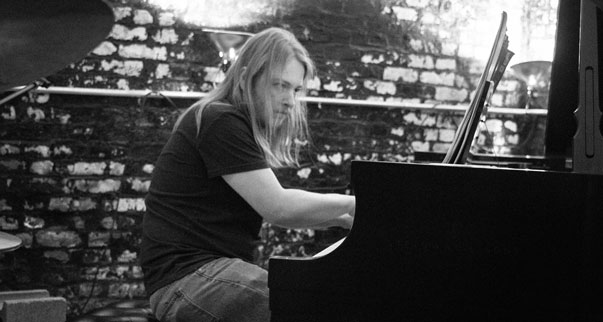 Karl Larson, piano
Outpost Concert Series
Culver Center of the Arts
Free Admission
| | |
| --- | --- |
| Performance | Wednesday, April 8, 2015, 8pm |
| Reading of Student Work | Wednesday, April 8, 2015, 3pm |
Brooklyn based pianist Karl Larson is a specialist in the music of our time, consistently presenting adventurous programs. Karl has premiered many solo piano and chamber pieces, including substantial works by David Rakowski, Ken Thomson, Robert Honstein, Chris Cerrone, and Ravi Kittappa. He is also well versed in the modern canon, having presented concerts featuring the music of Olivier Messiaen, Morton Feldman, Pierre Boulez, and György Ligeti. Recent performances of note include Morton Feldman's Triadic Memories, John Cage's HPSCHD, and Tristan Perich's Dual Synthesis for harpsichord and one-bit electronics.

A sought after collaborator, Larson has worked with many notable musicians from around the country, including Tristan Perich, Mantra, Eve Beglarian, the Eco Ensemble, the Sleeping Giant Composer Collective, and the W4 Composer Collective. He has also collaborated with members of the Bang On a Can All-Stars, Ensemble Signal, Eighth Blackbird, the California E.A.R. Unit, Ensemble Dal Niente, andthe Mivos Quartet. He has been featured on WQRX's Hammered!, the Contagious Sounds Series, the Frequency Series, Make Music New York, the Red Note New Music Festival, the Ball State New Music Festival, the Music in the Shape of a Pear Festival, and the Bowling Green State University New Music Festival.

Along with composer Ravi Kittappa, Larson curates Permutations, a New York City based monthly event featuring new music and art of all styles and genres. The series was created for young professional musicians and artists as a method of raising funds for progressive projects. Past events have featured the Color Field Ensemble, the Quince Contemporary Vocal Ensemble, Phonema Consort, TAK, Alejandro Acierto, and Eric Carlson.

Karl received a Doctor of Musical Arts in Contemporary Music and a Master of Music in Piano Performance at Bowling Green State University, where he studied with Dr. Laura Melton. Larson completed his undergraduate degree at Luther College in Decorah Iowa as a pupil of Dr. John Strauss. He is on faculty at the Brooklyn Conservatory of Music.

Larson's residency also includes an exciting public masterclass where UCR student composer works will be read and workshopped. Not only are these sessions an invaluable resource for student composers, but also offer a fascinating glimpse into the creative process for general audiences. Here new playing techniques are tested, phrasing and dynamics are evaluated, and interactive electronics, a hallmark of the UCR digital composition program, are fine-tuned. In this environment, the group will have a direct dialogue with composers that transcends the printed notes on the page. Don't miss this rare behind-the-scenes opportunity!
Support has been provided by UCR College of Humanities, Arts, and Social Sciences (CHASS) and the City of Riverside