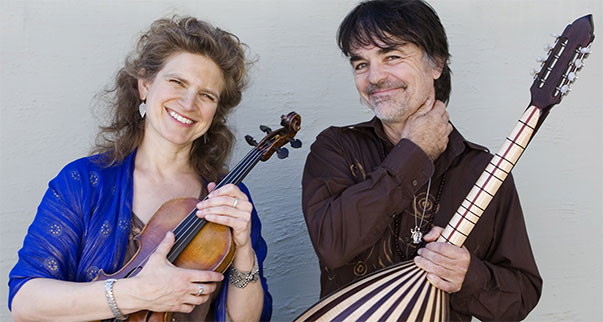 LABYRINTH-TESLIM
Original Compositions and Traditional Music from Greece and Beyond
Culver Center of the Arts
| | |
| --- | --- |
| Performance | Thursday, October 18, 2012, 8pm - 9pm |
Free Admission, Doors Open at 7:00 PM.
Revered Crete-based composer-performers Ross Daly and Kelly Thoma of
Labyrinth
join the exploratory string duo
Teslim
(Kaila Flexer and Gari Hegedus) in a mesmerizing evening of instrumental music inspired by the modes and odes of Greece, the world's most ancient and fertile cultural crossroads. The quartet displays astonishing skill at presenting instrumental songs wrung through impossibly complicated rhythms rooted in the musical traditions of the Mediterranean and Near East. A pantheon of ethnic string instruments including the oud, saz, laouto, baglama, bulgari, divan, cura, violin, viola, and lyra will guide listeners on a journey deep into the stirring repertoire of Greek, Turkish and Sephardic music.
"Gorgeous string dues with violin and an array of Middle Eastern lutes - profound, quietly joyous music." - Jeff Pinzino, Casual Listening
"Flexer and Hegedus are creators of new music based on a profound love of traditional Greek, Turkish, Arabic, Jewish, and Balkan musics. Kaila's fiddle playing is, as ever, supremely subtle and satisfying, and she has a strong kindred spirit in Hegedus." - Hollis Tayolor, Fiddler Magazine
UC Riverside Presents