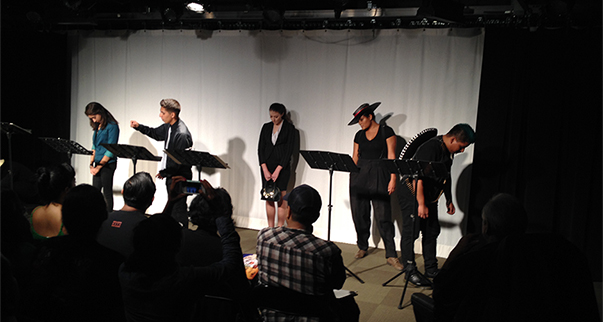 UCR Latina/o Play Project Presents: MARIACHI GIRL by Roxanne Schroeder-Arce
A Bilingual Mariachi Musical for Young Audiences
Culver Center of the Arts
Free Admission
| | |
| --- | --- |
| Performance | Thursday, February 18, 2016, 7pm |
The UCR Latina/o Play Project, the Tomás Rivera Endowed Chair, and UCR ARTSblock Present:
MARIACHI GIRL:
Bilingual Mariachi Musical For Young Audiences 
Written by Roxanne Schroeder-Arce
With Music and Lyrics by Héctor Martínez Morales
Roxanne Schroeder-Arce's MARIACHI GIRL is a mariachi musical for the masses. Cita wants nothing else in the world but to become a mariachi when she grows up, just like her father. The only issue is Luis's family has never had a woman in their band. Despite Carmen, Cita's mother, and her teacher Mrs. Parker's efforts in convincing Cita's father that it is Cita's time to shine, tradition, fear of losing their culture, and his daughter not having the best future is keeping him from changing his mind. In this magical bilingual musical written for the whole family, join Cita on her journey to becoming a Mariachi Girl!
The UCR Latina/o Play Project is happy to be partnering with our student ensemble Mariachi Mexicatl, led by Cynthia Reifler Flores, as our band for the musical!
Come join us after the show for an exciting audience talkback and conversation with the playwright, Prof. Roxanne Schroeder-Arce from University of Texas at Austin. Also joining us are Sylvia Blush, successful actor and theatre educator for young people in LA, and Dr. Cecilia Aragón, theatre scholar and expert in Latino Theatre for Young Audiences from University of Wyoming. 
For more information, please contact Melanie Queponds - mquep001@ucr.edu.
This event is made possible by support from the Chancellor's Research Fellowship, the Tomas Rivera Endowed Chair, College of Humanities, Arts, and Social Sciences (CHASS), UCR ARTSBlock, the Gluck Program of the Arts, the Department of Theatre, Film and Digital Production, the Department of Music, and the following department sponsors from University of California, Riverside: the Department of Music, the Department of LGBIT Studies, the Media and Cultural Studies Department, the Department of Ethnic Studies, the Department of Hispanic Studies, the History Department, and the Department of Dance.  Additional support provided by the city of riverside