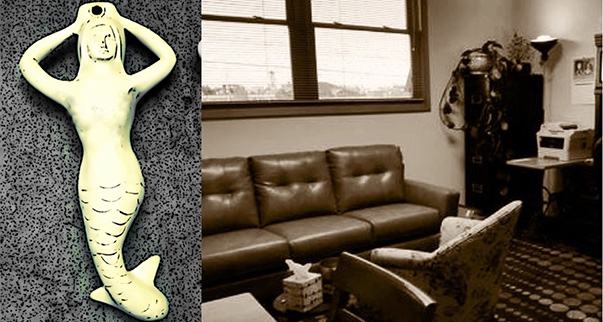 Merman and Paper Plastic Clothes
Segundo Jueves Latina/o Play Project
Culver Center of the Arts
Free admission, limited seating
| | |
| --- | --- |
| Performance | Thursday, April 9, 2015, 7pm - 9pm |
Teatro Latino: Second Thursday (Segundo Jueves) Latina/o Play Reading Project 
A monthly staged reading of 9 Latina/o plays over 9 months during the 2014-2015 academic year, as presented by UCR Theater faculty member Tiffany Ana Lopez. Project seeks to introduce audiences to Latina/o art and culture by showcasing the artistic excellence of noted voices and plays in U.S. Latina/o theatre.
A daughter's story of a mythical creature, addiction, mental illness, death and a moral but possibly highly illegal burial.
Plastic Paper Clothes by Elizabeth Isela Szekeresh. 
A needed letter, student services and a plastic wardrobe all leading to mental health adventures and detours.
Bios:
    Sara Guerrero is the founding Artistic Director of the award winning Breath of Fire Latina Theater Ensemble based in Santa Ana and a founding member of Latina performance group, Slip of the Tongue. She's a faculty member of South Coast Repertory's (SCR) theatre conservatory and recently served as the Community Engagement Director heading SCR's Dialogue/Diálogos Project and Producing Associate to the project's production, The Long Road Today by Jose Cruz Gonzalez. She is an active member of The Latino Theater Alliance and has served as an Assoc. Artistic Director for Teatro Indigena, Project Coordinator of the Orange County Arts Council, Resident Playwright for the Education Outreach Program for Los Angeles County, and a Teaching Artist to Plaza de La Raza Theater Program and Fringe Benefits. She is a recipient of Hispanic Woman of the Year by LULAC in 2012, the Women Making a Difference Award by the County of Orange in 2010, and was named "Best [Artistic] Director" by OC Weekly in 2009. Guerrero passionately works in theatre to support the creation of new work, under/never told stories and advocates for more accessibility to the arts.
    Elizabeth Isela Szekeresh is the Managing Director and founding member of Breath of Fire Latina Theater Ensemble based in Santa Ana to support and enrich the lives of Latinas in the performing arts. Currently she is a co-founding member of Slip of the Tongue performance group whose work is published in Chicana/Latina Studies: Journal of Mujeres Activas en Letras y Cambio Social. Elizabeth wrote and performed her solo performance piece "When Song Leaders Go Bad!" on the east and west coast. In 2013 she performed the work as part of the 2013 South Coast Repertory Studio Series and at the University of California, Riverside Medical Narratives Conference. Elizabeth was an Associate Producer of the 2010 See-What (Cihuat) Productions and Breath of Fire Latina Theater coproduction World Premiere of Cherríe Moraga's "Digging Up the Dirt." She
Support has been provided by UCR College of Humanities, Arts, and Social Sciences (CHASS) and the City of Riverside