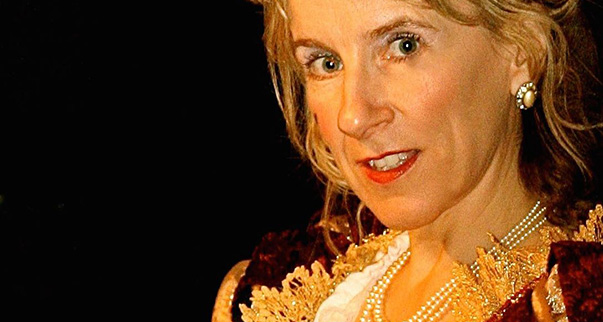 Nell Gwynne
A Dramatick Essaye on Acting and Prostitution
Culver Center of the Arts
Free Admission
| | |
| --- | --- |
| Performance | Saturday, May 23, 2015, 8pm |
London. 1663. The first women on the English-speaking stage. And what a delight for the eye!
Nell Gwynne celebrates the life and legacy of one of theatre's first and most enduring celebrities. With a fine flurry of saucy stories from Nell's life, this 45-minute one-woman whirl through history also poses serious questions about the impact of women in theatre. Where lies the fine line between the actress's craft and the casting couch? Expect some ripe Restoration language, as NELL GWYNNE draws upon the ribald rhymes of Rochester, the diaries of Samuel Pepys, the sexy notion of the first actresses on stage, and some good old Anglo-Saxon vocabulary! 
Music, history, charm – and oranges!
Bella Merlin (actor/co-creator) is globally renowned for her work on 'acting with facts', including David Hare's "The Permanent Way" at the National Theatre, London, and "Tilly No-Body: Catastrophes of Love at the Mondavi Centre" for the Performing Arts, California. She is the author of the best-selling The Complete Stanislavsky Toolkit and Professor of Acting & Directing at the University of California, Riverside, in the Theatre, Film and Digital Production Department.
Miles Anderson (director) is an internationally acclaimed actor of film, TV and stage, including the original "House of Cards" and "Battle Creek", with numerous awards for his performances at the Royal Shakespeare Company and the Old Globe San Diego. He recently directed "Measure for Measure" for the Theatre, Film and Digital Production Department at UCR.
Creative Team
Designer/Assistant Director: Allison Molnaa
Costume designer: Jason Estala 
Marketing & Publicity: Alix Conde
Stage manager: Gema Trujillo
Production Assistant: Natalia Zufferey