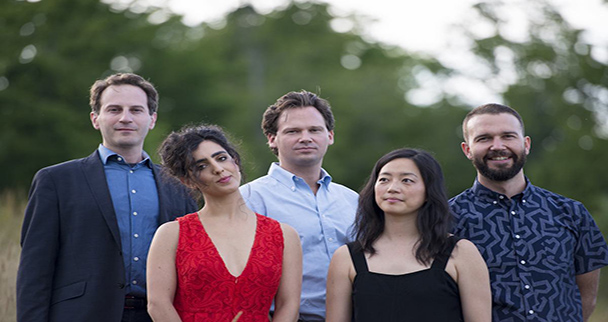 NOW Ensemble
Outpost Concert Series
Culver Center of the Arts
Free Admission
| | |
| --- | --- |
| NOW Ensemble | Tuesday, May 2, 2017, 7:00pm - 8:30pm |
"...the formal elegance of chamber music with a pop-honed concision and rhythmic vitality." - Time Out New York
"NOW...imports a catchy inflection to classical forms...Striking a balance between the old and the new has rarely sounded this good." - Newsweek
NOW Ensemble is a dynamic group of performers and composers dedicated to making new chamber music for the 21st century. With a unique instrumentation of flute, clarinet, electric guitar, double bass, and piano, the ensemble brings a fresh sound and new perspective to the classical tradition, infused with the musical influences that reflect the diverse backgrounds of its members. Their 2014-2015 season celebrates 10 years of bringing some of the most exciting composers of their generation to national and international recognition. This past fall and spring saw the group travel to the Apples and Olives Festival in Zurich, Switzerland, Town Hall Seattle, Da Camera Houston, the Lincoln Center Atrium, and the Carnegie Hall Neighborhood Concert series. Upcoming projects include premieres of new works by composer Judd Greenstein, Dawn of MIDI's Qasim Naqvi, vibrant and innovative Princeton composition fellow Gabriella Smith, UT Austin professor Yevgeniy Sharlat, and Rome Prize Winner Sean Friar.
One of NOWEnsemble's main goals has been to create a musical paradigm in which continuous collaboration between composers and the performers is taken as a given. This philosophy has been put into practice in residencies at numerous institutions including Yale, Princeton, University of Virginia, and the New College of Florida. NOW Ensemble's performances have been featured on NPR's "All Things Considered" and on live on WNYC, and its sophomore album "Awake" charted at #1 in Amazon's Classical Chamber Music Charts. NOW's collaboration with film maker Joshua Frankel Plan of the City was praised in the Washington Post, the Huffington Post, and New Yorker critic Alex Ross's blog, where it was hailed as "gorgeous." Since 2004, NOW has worked with over 60 of today's most exciting composers, including Nico Muhly, Timothy Andres, Missy Mazzoli, Judd Greenstein, Kathryn Alexander, Jason Treuting, and Sean Friar. NOW has performed this new repertoire at such venues as Miller Theater, Merkin Hall, the Bang on Can Marathon, The Kitchen NYC, The Stone, the Carlsbad Festival, the Festival International Chihuahua, the Look and Listen Festival, The Music Gallery Toronto, Sarasota's New Music New College, the Southern Exposure Series, Pittsburgh's Music on the Edge, Cal Arts, MIT, and Julliard.
Support has been provided by UCR College of Humanities, Arts and Social Sciences (CHASS) and the City of Riverside.