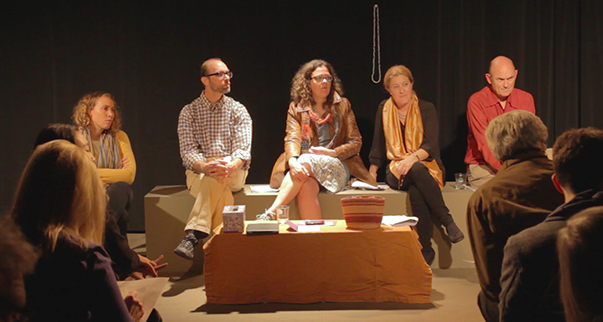 Paths of Migration
Chapter II: Sea Seed
Culver Center of the Arts
Free Admission
| | |
| --- | --- |
| Performance | Saturday, October 3, 2015, 5pm - 8pm |
As a contemporary family gathers to celebrate a wedding, the reality of global migration force it to confront the possibilities and challenges of "serial migration" in this concert reading of the full-length, original play "Sea Seed"
This is a concert reading of the original play "Sea Seed" developed by members of the theatre group the Son of Semele Ensemble and Prof. Erith Jaffe-Berg (Department of Theatre, Film and Digital Production, UCR), and inspired by a collaboration with the Moving Matters Traveling Workshop developed by Prof. Susan Ossman (Global Studies & Antrhopology, UCR). 
The play traces a contemporary family as it prepares to celebrate a wedding. While the family gathers for this special event, the realities of global migration sets in and challenges the family unit to reconsider what it means to be stationary, nomadic and "on the move" in today's global world.
Support has been provided by UCR College of Humanities, Arts, and Social Sciences (CHASS) and the City of Riverside