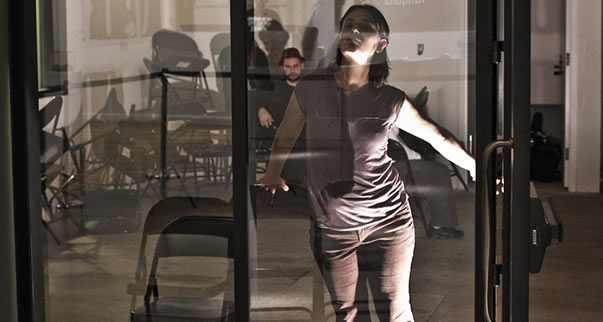 Performance as Process
Part II
Culver Center of the Arts
| | |
| --- | --- |
| Performance | Thursday, March 1, 2012, 7:00pm - 8:30pm |
Part II of Performance as Process and Video culmination in Culver Atrium during First Thursday Artswalk.

UCR Culver Center of the Arts presents Performance as Process: An Interdisciplinary Collaboration, a collaborative exchange between international and interdepartmental artists currently working at University of California, Riverside. This project joins graduate students based in both music composition and experimental choreography with diverse backgrounds in new media art, performance installation, experimental electroacoustic composition, improvisation, and expertise in the cultural movement forms from Bahia (Brazil).

It fosters the continuation of active cross-platform explorations into music, dance, and videodance. The fruits of the collaboration will manifest during the month of February in the form of community workshops, public lectures, video screenings, an evening of performance installation, and two ArtsWalk performances that introduce and bridge the community to the collaborative work in its various stages. Organized by UCR Culver Center of the Arts. Curated and performed by Crystal Sepulveda, UCR graduate student in Dance; no.e Parker, UCR graduate student in Music; and Guilherme Bertissolo, Visiting Scholar from Brazil in UCR?s Music Department.

This project is a Culver Arts Research Laboratory (CARL) Residency project. This program focuses on new projects developed by UCR faculty and graduate students that are bold, dynamic, and experimental, and engage with the Culver building and downtown Riverside as a site of exploration and collaboration. Tyler Stallings, Artistic Director, UCR Culver Center of the Arts, say, ?The primary goal for the presentation of faculty and graduate student projects is to feature and showcase to the larger community the best in arts-based research that is being conducted on campus."
Culver Arts Research Laboratory (CARL) Residency Project