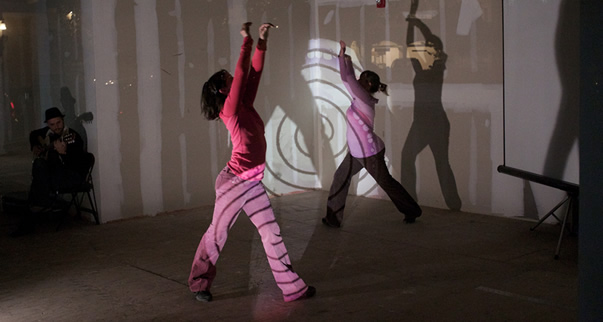 Performance as Process
An Interdisciplinary Collaboration
Culver Center of the Arts
| | |
| --- | --- |
| Performance | Saturday, February 18, 2012, 3pm - 4pm |
Following the Samba and Capoeira Workshop, there will be two live, installation performances in the Culver Center Café, observable from both inside and outside the Culver Center. Performance as Process: An Interdisciplinary Collaboration, a collaborative exchange between international and interdepartmental artists currently working at University of California, Riverside. This project joins graduate students based in both music composition and experimental choreography with diverse backgrounds in new media art, performance installation, experimental electroacoustic composition, improvisation, and expertise in the cultural movement forms from Bahia (Brazil). Curated and performed by Crystal Sepulveda, UCR graduate student in Dance; no.e Parker, UCR graduate student in Music; Lia Sfoggia, dancer and choreographer from Brazil, and Guilherme Bertissolo, Visiting Scholar from Brazil in UCR's Music Department.

Dance Workshop, 12:30-2:30 PM
Culver Center of the Arts, Dance Studio

Samba and Capoeira Workshop: Lia Sfoggia, Choreographer and Dancer from Brazil, will offer another workshop that introduces Afro-Brazilian rhythms like "Capoeira" and various dance forms of "Samba." Come out and Samba your way across the dance floor and enjoy partnering skills for executing Capoiera! Along the way, experience the richness of the Afro-Brazilian culture and history of Samba and Capoeira.