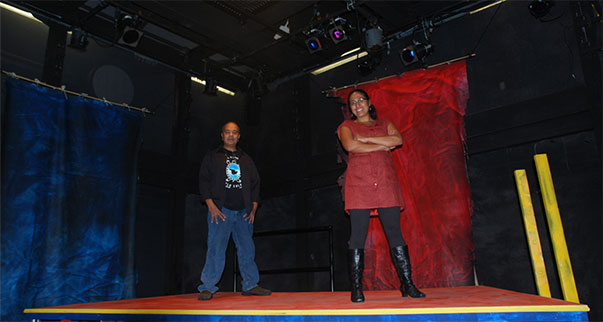 REMNANTS
Culver Center of the Arts
Free Admission
| | |
| --- | --- |
| Performance | Saturday, February 22, 2014, 8pm - 10pm |
About the Project

REMNANTS is a musical told through slide projections, live music, dance (popping and locking), singing and rapping that explores the challenges faced by adolescent boys as they strive for educational excellence in communities of struggle. The play tells the story of a tight knit crew of three life-long friends, Arturo, William and Nelson. Discipline has been their credo since kindergarten, but now they find themselves desiring the very thing they have been trying to avoid: violence. While waiting to commit the act, the three friends reflect upon their environment, the power of the media and popular culture. As we get to know these three philosophers, light is shed on the remnants of slavery that still bind them together as children of color.


Production Team Biographies

José Joaquín García (Playwrght & Director) director, composer, actor, singer, writer, teaching artist, is a Puerto Rican from the island of Manhattan. As an actor, José understudied Rubén Blades in Paul Simon's The Capeman, on Broadway. He also acted with The New Group (The Flatted Fifth), Repertorio Español, and has worked extensively with Pregones (The Red Rose with Danny Rivera, El Apagón, Medea with Lupita Ferrer), among others. As a director/performer, José has worked extensively on bringing the New York/Latino voice to the stage with Rubí Theater Company, a group he co-founded in 2001 with other artists. He directed Martín Espada's Imagine the Angels of Bread (New York Hip Hop Theater Festival, New World Theater, MASS/Amherst) and works by Nicholasa Mohr. With Rubí, José has appeared on several CD's with Dan Zanes, including the Grammy winning, Catch That Train.

Patricia Herrera (Playwright and Production Manager) is an Assistant Professor of Theatre at the University of Richmond. Her teaching and research focuses on contemporary performances of the Americas with an emphasis on social justice, identity politics, and transnationalism. In addition to her academic work, she has written and served as a dramaturge for several plays. She is the co-founder of the Rubí Theater Company in New York City, which was founded in 2001. The group appears on Dan Zanes's Nueva York (2008), Catch That Train (2006, Grammy Award Winning CD for Best Children's Musical Album), House Party (2003), and Night Time (2002), in which she was a lyricist and rapper.

J.A. Myerson (Music Director, Accompanist) is the artistic director of Full of Noises, a New York City theater company that mounts politically salient stagings of classic texts. Directing credits include Shakespeare's Hamlet, New York City's first ever production of Euripides' Andromache (which he adapted into English) and his own Songs for Andromeda (After Ovid) (at ART's Club OBERON in Cambridge, MA). Other theatrical ventures of his have taken him to The Public Theater, Red Bull Theater, Target Margin Theater, Bard College and elsewhere, in roles as wide-ranging as director, assistant director, dramaturge, lighting designer, sound designer and playwright. He composes and performs music in many genres on a variety of instruments, including with the band Ruby, alongside José Joaquin García. Myerson is the Executive Editor of the news commentary web publication The Busy Signal and blogs for the think-tank Foreign Policy in Focus.

Following the performance will be a talk-back facilitated by Rickerby Hinds, creator and director of the Califest Hip-Hop Theater Festival, playwright, and Professor of Theatre, UCR.

This event is made possible by the generous support of a Culver Arts Residency Laboratory Fellowship; and the Tomás Rivera Endowed Chair & Tomás Rivera Conference, University of California, Riverside.

This event is a Pre-Conference Event for the 26th Annual Tomás Rivera Conference, "Civic Morality: Community Engagement Through Creative and Scholarly Excellence," on Friday, February 21, 2014 at the University of California, Riverside. All events free and open to the public. For full information, see tomasriveraconference.ucr.edu.