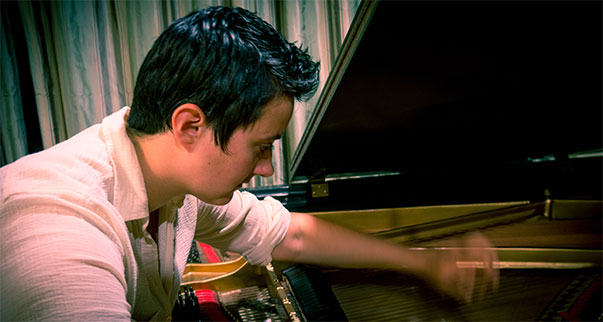 Regina Schaffer, New music pianist
Culver Center of the Arts
Free Admission, limited seating for Reading
| | |
| --- | --- |
| Student Reading Session | Tuesday, May 20, 2014, 10am - 12pm |
| Concert | Tuesday, May 20, 2014, 8:00pm - 9:30pm |
A collaboration between ARTSblock and the UCR DEPARTMENT OF MUSIC

New music pianist, Regina Schaffer, is the founder of the performance collective New Keys; newfangled music for piano, which is celebrating their 10 year anniversary in 2014. She received her Bachelor's of Music from the San Francisco Conservatory of Music and a Master's in Piano Performance and Literature from Mills College where she was able to focus on new and experimental music. At Mills College, Regina studied contemporary performance practice with avant-garde percussion legend William Winant and performed with his ensemble on keyboards. Regina is currently performing both with New Keys and as duo partner with Sarah Cahill. Additional information is available at www.reginaschaffer.com and www.newkeysconcert.org.

At the Culver, Schaffer will present a concert of new works for the piano including historically significant solo works of the new music repertoire, music from up and coming composers and student works from current UCR students. Schaffer's residency also includes an exciting public masterclass where UCR student composer works will be read and workshopped. Not only are these sessions an invaluable resource for student composers, but also offer a fascinating glimpse into the creative process for general audiences. Here new playing techniques are tested, phrasing and dynamics are evaluated, and interactive electronics, a hallmark of the UCR digital composition program, are fine-tuned. In this environment, the group will have a direct dialogue with composers that transcends the printed notes on the page. Don't miss this rare behind-the-scenes opportunity!