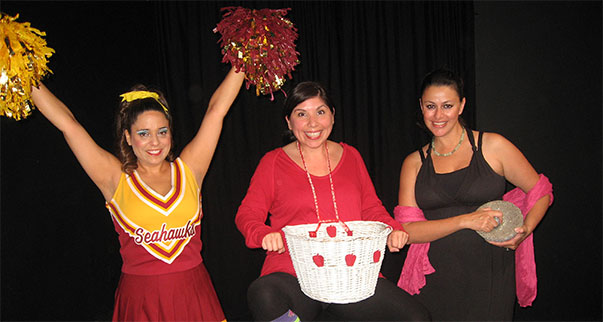 Slip of the Tongue
Revealing Stories of Latina Sexuality, Identity and Culture
Culver Center of the Arts
Free Admission
| | |
| --- | --- |
| Performance | Wednesday, February 12, 2014, 7pm - 9pm |
ABOUT THE EVENT
A night of three solo performances and two short films that use humor and drama to explore sexuality,
familia
, culture, identity, speaking out, and other "slips" of the tongue.
"Calzones Cagados"
written & performed by Sara Guerrero, is a story about a missing bike, saggy hand-me-down "chonies", a pubic hair toupee and a divorce - all magical childhood moments that add up to a lot dysFUNction.
"When Song Leaders Go Bad!"
written & performed Elizabeth I. Szekeresh, is about an ex-song leader's exploration of race, sexuality and mental illness told through cheers and posters.
"Rocks in My Salsa"
written & performed by Cristina Nava about contemporary life in Los Angeles. Somewhere between Chicana and Mexican. Where chicken and an orgasm become taboo. You hold a rock while grandma held a bible and self discovery happens at the bottom of a dirty martini glass. The two short films screening are:
"Salsa Lessons"
by Cristina Nava - During a salsa making lesson seven year old Cristy learns the comical history of her future heirloom - a
molcajete
; and
"It's a Pleasure"
by Elizabeth Szekeresh - Ann learns about roommate respect and the greatest love of all. (Pieces are intended for mature audiences and may not be suitable for children. Adult Language and Content)
About the Artists:
CRISTINA NAVA
was born in East Los Angeles, California to Mexican parents. She received her B.A. from UCLA in English Literature. While Nava began acting in high school and continued to write and act in many plays, in 2006 she began to make the transition to focus on film. In 2001, she produced a hybrid docu-narrative video titled "Mitos, Ritos y Tonterias", a Spanish-language film about the negative effects of homophobia and machismo within the Latino community. In 2002, she was cast as the lead in her first short titled "La Puta" and shortly thereafter as the lead in "Red Phoenix", where she also earned a title as Associate Producer. She began studying screenwriting and in 2007 her script, "Syndrome", was chosen for a UCLA thesis project. Nava helped secure funds for the thesis project, and she also produced the short film. Nava went on to write, produce and star in another short titled "Salsa Lessons", which she shot with her, then, husband, Patrick Perez. Finding not only a soul mate in Perez, but also a filmmaking partner, upon Nava's request, the team held off on reconstructing the bathroom in their new home to invest in shooting their first feature comedy titled "Lola's Love Shack", which Nava produced while pregnant with their third child. Most recently Nava was hired as a season two Transmedia writer for Hulu's number one show "East Los High", and in December of 2013, she finished her Masters in Education and Administrative Credential, focusing on film in education for her thesis project.
ELIZABETH ISELA SZEKERESH
is the Managing Director and founding member of Breath of Fire Latina Theater Ensemble (
www.breathoffire.org
), based in Santa Ana to support and enrich the lives of Latinas in the performing arts. She received a B.A. in Women's Studies with an emphasis in Chicano Studies from the University of California, Davis. Szekeresh has been part of many Latina theater and film collectives. Currently she is a co-founding member of Slip of the Tongue (SOTT) performance group whose work is published in
Chicana/Latina Studies: Journal of Mujeres Activas en Letras y Cambio Social
(Tiffany A. Lopez Ph.D, Editor). Elizabeth wrote and performed her solo performance piece "When Song Leaders Go Bad!" on the east and west coast. In 2013 she performed the work as part of the 2013 South Coast Repertory Studio Series and at the University of California, Riverside Medical Narratives Conference. Her short film, "It's a Pleasure" (2005) has screened at film festivals nationally and internationally. Elizabeth co-wrote "The 'Mexican' OC: Triumphs and Contributions of the Mexican American Community," a California Story Fund Grant through the California Council of Humanities (2006). Szekeresh was a Producer of Mel Nieves's W.A.C. Iraq: A Work in Progress (2008) and of Janine Salinas's "Angel of the Desert" as part of the 2011 South Coast Reparatory Studio Series. Elizabeth was an Associate Producer of the 2010 See-What (Cihuat) Productions and Breath of Fire Latina Theater co-production World Premiere of Cherríe Moraga's "Digging Up the Dirt." She was also an Assistant Director of Jose Casa's "14" (2008). Elizabeth is currently completing her newest solo performance piece "Plastic Paper Clothes." This summer she was an actor in "Todo Sana" a music video by Ruby Castellanos.
SARA GUERRERO
is a California native raised and educated in Santa Ana. She's a graduate of the California Institute of the Arts' Theatre Acting Program under the mentorship of Fran Bennett. Sara is the founding Artistic Director of the award winning Breath of Fire Latina Theater Ensemble (breathoffire.org) based in Santa Ana created to support and enrich the lives of Latinas in the visual and performing arts. Under her leadership nearly 40 new works, premieres, collaborations, projects by Latina/o playwrights and artists have been produced: including "Angel of Desert" by Janine Salinas directed by Guerrero (South Coast Repertory's Studio Series), the World Premiere of "Digging Up the Dirt" written and directed by Cherríe Moraga, and "The Mexican OC," which the
OC Weekly
describes as, "One of the most significant plays in the history of Orange County theater - if not the cultural history of the county." Breath of Fire has been recognized for its work as an Outstanding Arts Organization by the Orange County Human Relations and Best Theatre Troupe by OC Weekly. Additionally, Sara sits is on the artistic staff and theatre conservatory of South Coast Repertory, a Tony-award winning theatre company celebrating its 50th season. Under artistic she is the Engagement Director heading SCR's Dialogue/Diálogos Project, a two year community-based theatre-making project with playwright José Cruz González, focused on writing and creating a play with and by the Latino Community of Santa Ana; the project is made possible by a grant by the James Irvine Foundation and set to be presented fall of 2014 in the city of Santa Ana. She is an active member of The Latino Theater Alliance, a group comprised of Latino theater artists and professionals whose individual and collective voices contribute to the diversity of theater in the United States. Recently, she participated as a panelist for Oregon Shakespeare Festival's Latina/o Play Project focused discussion on "Latino Theatre in the Future", moderated by Luis Alfaro. She has served as an Assoc. Artistic Director for Teatro Indigena, a Project Coordinator of the Orange County Arts Council, a Resident Playwright for the Education Outreach Program for Los Angeles County, and a Teaching Artist to Plaza de La Raza Theater Program and Fringe Benefits (a social justice theater organization). She is a recipient of Hispanic Woman of the Year by LULAC in 2012, the Women Making a Difference Award by the County of Orange in 2010, and was named "Best [Artistic] Director" by OC Weekly in 2009. Sara continues to work with many theatres and arts organizations throughout California and the country and, passionately advocates for the arts.
About Slip of the Tongue
: A Latina Theater / Film Collective founded by C. Nava, S. Guerrero and E. Szekeresh to bring to stage and screen the Under-told and Revealing stories of Latina identity, sexuality and culture.
About BOFLTE
: "Supporting the Work and Enriching the Lives of Latinas in the Visual and Performing Arts." Breath of Fire Latina Theater Ensemble creates opportunities and leadership roles for Latinas in the performing arts. We aim to produce work that reflects, impacts and empowers the Latino community. We believe in the transformative power of theater and aim to raise awareness of critical issues in the community, entertain and challenge, foster cross-cultural understanding, and be a catalyst for personal healing and social justice.
Following the performance will be a talk-back facilitated by Dr. Tiffany Ana López, Professor of Theatre and Tomás Rivera Endowed Chair, College of Humanities, Arts and Social Sciences, UCR.
This event is made possible by the generous support of a Culver Arts Residency Laboratory fellowship; and the Tomás Rivera Endowed Chair & the Tomás Rivera Conference, University of California, Riverside.
This event is a Pre-Conference Event for the 26th Annual Tomás Rivera Conference, "Civic Morality: Community Engagement Through Creative and Scholarly Excellence," on Friday, February 21, 2014 at the University of California, Riverside. All events free and open to the public. For full information, see
tomasriveraconference.ucr.edu
.