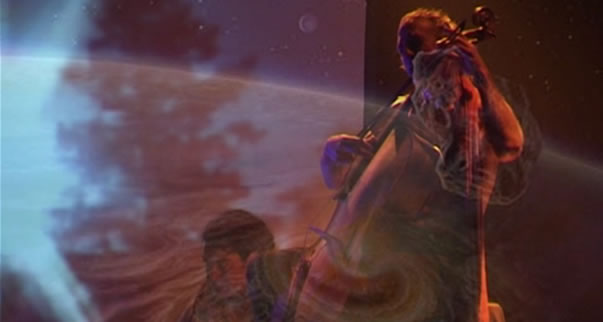 Teatro dello Spirito
Live musical performance by Luca Forcucci and Michael Kott
Culver Center of the Arts
| | |
| --- | --- |
| Performance | Thursday, May 5, 2011, 6pm - 9pm |
A Collaboration between the Culver Center of the Arts
And The UCR Experimental Acoustic Research Studio (EARS)

Teatro Dello Spirito is a live musical collaboration between sound composer Luca Forcucci and trans-galactic cellist Michael Kott, whose group is called 2 humans & The Cosmos. The duo performs by integrating found sounds recorded from the Amazon forest, abandoned coal mines or urban environments, with hyper-intergalactic cello and brainwave interfaces. Their style pushes the boundaries of electroacoustic music by an integration of improvisation techniques.

The performance explores ways of interacting with soundscapes, field recording and musicians. In this context, the notation of the work resides in the listening act between the performers and therefore the surrounding reactive environment to the performance. This consideration reflects issues from the artist Pauline Oliveros with her careful sonic observation through "deep listening" technique, John Cage's ideas that emanate from nature and sound environment or the French philosopher Roland Barthes, who stated, in an essay entitled "Listening", that hearing is a physiological phenomenon; listening is psychological act.

About the Artists:
Luca Forcucci is a sound artist. His research focuses on the sonic properties and the perception of architectural spaces, immaterial architectures, digital and natural environments. His work is presented on a regular basis in Europe, USA and Brazil. His last record is released in 2011 by the Belgian label SUBROSA.

He has worked with sound in many artistic fields and with several artists like independent media choreographer Johannes Birringer, Francisco Lopez for recordings in the Amazon forest or Al Comet from the band the Young Gods.

Transgalactic electro-cellist Michael Kott has been rocking the cello since tender age of nine. Of his musical influences he says, "there are many... not all from music per se... the motion of a fish or a bird of prey...call forth emotions and stories...the visual and the aural become one..."

A cellist and composer who has worked with artists such as Mark O'Connor, Robert Mirabal, Peter Buffett, and Victor Wooten - writing two of the songs on Victor's Grammy nominated album Yin Yang. Michael has been known to perform playing cello and singing while riding a skateboard, and continues to travel the world bringing the vibration of the cello to new audiences around the world.