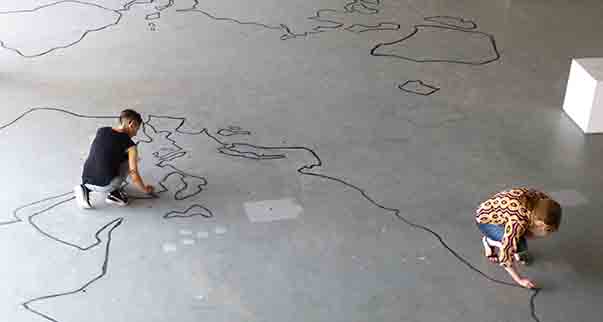 The Art of Migration
The Moving Matters Traveling Workshop
Culver Center of the Arts
Free Admission. "Border Crossing" - free with reserved ticket.
| | |
| --- | --- |
| Map Intervention - Atrium | Thursday, March 10, 2016, 5pm |
| Border Crossing - Screening Room | Thursday, March 10, 2016, 6:30pm |
The Moving Matters Traveling Workshop was formed at a meeting at the Culver Center in 2013. Since then, the evolving art collective has explored themes of migration and mobility in exhibitions, performances and participatory interventions on the theme of migration in France the Netherlands and Romania. The workshop develops in the image of the serial migrant; it evolves by linking one place to another in a process of progressive habitation.  
Now, the MMTW returns to Riverside for a conference at the Center for Ideas and Society and an exhibition of their "memory books" and performance at the Culver Center of the Arts. 
The artists of The Moving Matters Traveling Workshop (MMTW) were born and have lived in different countries. Yet they share a common story of serial migration. While a cosmopolitan may evolve from provincialism toward global consciousness and an immigrant may feel torn between two countries, the "serial migrant" is shaped by her implication in successive environments and the effort to make herself of them all. MMTW artists examine their common experience by producing works of art, exhibitions and performances to probe the politics of movement, confinement and migration.
Support Provided by: The Center for Ideas and Society, The College of Humanities Arts and Social Science, The Office of International Affairs, and the Departments of Anthropology, Music and Theater, Film and Digital Production, the Program of Global Studies at the University of California, Riverside, The University of Amsterdam, California College of the Arts and The City of Riverside.