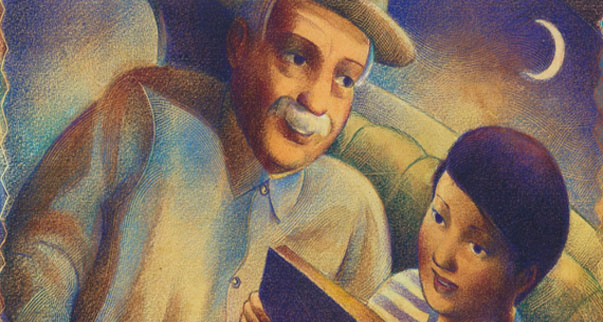 Tomás and the Library Lady
Written by Pat Mora - Adapted to the stage by Jose Cruz Gonzalez
Culver Center of the Arts
Free Admission. Seating is limited.
| | |
| --- | --- |
| Tomás and the Library Lady | Thursday, October 27, 2016, 7:00pm - 8:30pm |
The UCR Latina/o Play Project and UCR ARTSblock presents:
Tomás and the Library Lady: written by Pat Mora
Adapted to the stage by Jose Cruz Gonzalez
Presented as part of the annual Tomás Rivera Conference
Hosted by the CHASS Dean's Office
This musical for young audiences is based on the classic children's book by Pat Mora. It follows Tomás Rivera and his family's move to the midwest as migrant farmers; as they face the challenges that come with moving to the United States. This performance, as part of the annual Rivera Conference, brings to life the magic of learning to read, Rivera's childhood, and his accomplishments as a scholar, author, and Chancellor of UC Riverside.
Support has been provided by UCR College of Humanities, Arts and Social Sciences (CHASS), the Gluck Fellows Program of the Arts, and the City of Riverside.

Used by permission of Curtis Brown, Ltd. Copyright 1997 All Rights Reserved.

____________________________________________________________________________________________________________________
Life in Motion: A Tribute to Dr. Tomás Rivera
Presented by UC Riverside College of Humanities, Arts and Social Sciences & Cinema Culturas Film Festival
Friday October 28, 2016
6:45pm Gala Night Cocktail Hour
8:00pm Film Screening of La deluged line Amarillo
Fox Performing Arts Center
3801 Mission Inn Avenue
Riverside, CA 92501
Tickets are $125 per person for Gala and Screening
$25.00 for Screening only
Purchase Tickets Now
Cocktail Attire
To contribute to the Tomás Rivera Foundation click here:  GIVE NOW

select "events" and use offer code RIVERA for gala tickets