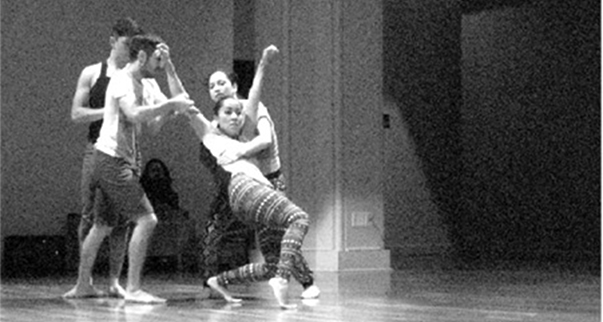 UCR Dance Night
Presented by - UC RIVERSIDE Department of Dance and ARTSblock
Culver Center of the Arts
Free Admission
| | |
| --- | --- |
| Performance | Thursday, February 5, 2015, 7pm - 9pm |
UCR DANCE NIGHT
7:00 pm 
The Gluck Contemporary Dance Ensemble presents Morph 'n Mix
An original choreographic work that samples, alters, loops and mashes up an exciting array of movement.  Co-directors Professor Wendy Rogers and Gluck Graduate Fellow Rosa Rodriguez Frazier have collaborated with this select group of undergraduate dancers to create a dance that incorporates impromptu changes with each performance. The work features digitally generated music, audience interaction and sculptural hand props constructed by Jonathan Frazier. The Contemporary Dance Ensemble is a pre-professional opportunity for student dancers to participate in the Gluck Fellows Program of the Arts' community arts activities.
7:45 pm 
in the works
Choreographers present dancing and creative process from current works.
This program features Brithinee Fellows,* choreographers who have been awarded a UCR Department of Dance Brithinee Fellowship for creative research in the Department's Brithinee Dance Studio, located in the Culver Center of the Arts. Meet the dancers and take a look at what they have been doing upstairs in the corner studio. Dance Night celebrates interconnections between artists associated with UCR's Dance Department and the choreographers, teachers, performers and audiences building Riverside's growing downtown dance scene.
• Elokú Dance Company presents Possible Calamities and milk
Choreographed and performed by Alfonso Cervera, Irvin Gonzalez and Cydney Watson*
• Julie Satow Freeman* presents Buy-in (working title)
Choreographic direction by Julie Satow Freeman in collaboration with dancers Stella Aryan and Casey Avaunt
• Crystal Sepúlveda* presents a performance of solo improvisation
• The Umoja Ensemble of the Inland Empire presents Lift
Choreographed and danced by Makeda Kumasi* 
featuring Joy Ann Martin and Monique Williams-Randolph
• counterpoint/shift presents LISTENING-fly, catch, don't fall
Choreographic direction by Sue Roginski* with improvisation, collaboration, and performance by Rosa Rodriguez Frazier, Tracy Tom-Hoon and Irvin Gonzalez
Photo: counterpoint/shift, photography by Daino
This event is made possible with support of the City of Riverside and is part of Artswalk First Thursdays, hosted by the Riverside Arts Council and sponsored by the City of Riverside and Riverside Downtown Partnership