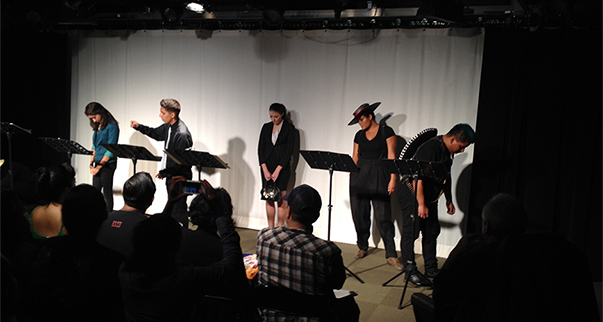 Wolf at the Door
A Segundo Jueves Latina/o Play Project Presentation
Culver Center of the Arts
Free Admission
| | |
| --- | --- |
| Performance | Thursday, October 29, 2015, 7pm |
In Wolf At The Door, Marisela Orta weaves a dark, mystical tale about one woman's struggle of living with her violent, abusive husband. When a pregnant woman enters their home and lives, Septimo has other plans for Isadora's friend and her baby. With a pack of wolves surrounding their home and threatening their livelihoods, Isadora must decide how to fight for freedome for her friend Yolot, Yolot's child, and herself. In this thrilling Dia De Los Muertos style staged reading, find out what happens to Isadora, her husband Septimo, and the mysterious Yolot on the Thursday before Halloween, October 29th, 2015. 
Marisela Treviño Orta is an award-winning Bay Area playwright. Her first play Braided Sorrow won the 2006 Chicano/Latino Literary Prize in Drama, received its World Premiere in 2008 at Su Teatro in Denver, CO and won the 2009 PEN Center USA Literary Award in Drama. Marisela's other plays include: American Triage (2012 Repertorio Español Nuestras Voces Finalist); Heart Shaped Nebula (2012 O'Neill Playwrights Conference Semi-Finalist); and Woman on Fire. Marisela is a former member of Playground's writers pool and an alumna of the Playwrights Foundation's Resident Playwrights Initiative. Currently she is working on a cycle of fairy tales inspired by Latino mythology which include The River Bride (2013 National Latino Playwriting Award Co-winner), Wolf at the Door, and Alcira.
This event is made possible by support from the Tómas Rivera Endowed Chair, UCR ARTSBlock, the Department of Theatre, Film and Digital Production, and the following departments from University of California, Riverside: the Department of Music, the Department of LGBIT Studies, the Media and Cultural Studies Department, the Department of Ethnic Studies, the Department of Hispanic Studies, the History Department, and the Department of Dance.
Support has been provided by UCR College of Humanities, Arts, and Social Sciences (CHASS) and the City of Riverside.