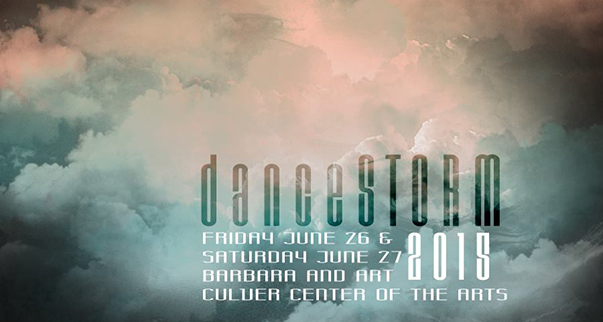 danceSTORM
Culver Center of the Arts
Free Admission
| | |
| --- | --- |
| Program Day 2 | Saturday, June 27, 2015, 12:00pm - 6:30pm |
| Program Day 1 | Friday, June 26, 2015, 12:00pm - 6:30pm |
danceSTORM is a dance festival geared towards fostering a network between and creating visibility for a diverse group of women directors in experimental dance and performance. The festival is broken down into two linking parts, Embodied Workshops + Live Performance. 
Participants are welcomed to engage in a range of embodied dance workshops that translate a physical knowledge into a prepared and informed viewing experience of each artist's live performance.
The event will be held over two days on Friday June 26th and Saturday June 27th 2015 in downtown Riverside at host-site Barbara and Art Culver Center of the Arts with performances each evening from 5-6:30 PM. Scroll below for additional information.
2015 artists include Samantha Blake Goodman, Anya Cloud, Mackenzey Franklin, Rebeca Hernandez, Stephanie Yezek Jolivet, Sue Roginski 
danceSTORM co-founding organizers  Crystal Sepúlveda, Sue Roginski, Tracy Tom-Hoon