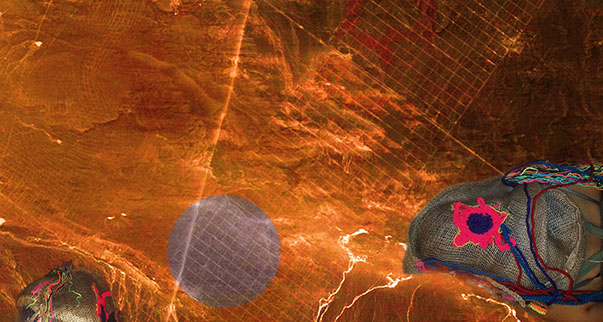 Dancing is a little too romantic for me
Performance Killed the Video Star (Performance Series)
Culver Center of the Arts
Admission is free to the public
| | |
| --- | --- |
| Culver Center of the Arts Atrium | Saturday, January 30, 2016, 6:00pm - 7:30pm |
Dancing is a little too romantic for me is developed from a dialogue between artists Satoe Fukushima and Kimberly Zumpfe into contemporary and historical cross-cultural influences between Japan and the United States. The dialogue and related research is focused on visual and aural experiences that reflect relationships to a commercial culture out of control and fantasies of impending outcomes. The work will feature a sound performance composed from the aurality of distraction, particularly the sounds of subliminal fear production and the Miracle Industry, dispersed and interrupted by vocal sounds from the artists. The performance will create a space of discontinuity, while creating connections between the audience and artist relationship to create an ambiance of "we are in it together."

The production of the aural and visual elements of this work is intimately tied to the inter-relationship between the economic boom in post-war Japan with the Cold war production between the United States and the Soviet Union. Both the United States and Japan were having expectations of "the end," visions of the bomb's impact on bodies, quality of life, history, and the future. Haunted by this mutually shared historical moment, Fukushima and Zumpfe will be researching the shared cultural tendency that infused a subconscious terror into popular culture, created pseudo-psychedelic avoidance tactics of political and domestic realities, and celebrated excess as ritualized activity in the face of potentially unlivable futures.


ABOUT THE ARTISTS
Satoe Fukushima earned her MFA in Fine Art and Integrated Media from California Institutes of the Arts in 2013.  Her work often deals with the gaps of signs and information; Not only language, but cultural norm and "other-ed" sides. Using wide range of media including bread, video, sculptures and whipped cream, humor in desperation and miscommunication are focused.
She has exhibited and performed at various spaces around Los Angeles and internationally including LA Municipal Art Gallery, El Camino College Art Gallery, Artists' Union Gallery and Huashan Creative Park in Taipei.

Kim Zumpfe is an artist and educator who lives and works in California. She works with images, objects, text, installation, collaborative structures, and exhibitions. In these various media, she is engaged with relationships between the ideological body and subjectivity in locations where multiple bodies develop, displace, produce, and forget to maintain boundaries and relations. Through modes of transformation, she investigates where borders within form disperse – in the body, subjectivity, and politicized space, as a way to interrogate encounters where collapse of identity, intimacy, responsibility, and power structures overlap. Her work has been exhibited at University Art Gallery Irvine, University Art Museum Long Beach, Visual Arts Center Fullerton, and several public and online sites. She is a member of Emily O, a free-floating artist collective that questions the relationship between individual and collective processes and identity through organizing exhibitions.

Dancing is a little too romantic for me is part of the series, Performance Killed the Video Star in conjunction with the exhibition SECOND WAVE: Aesthetic of the 80s in Today's Contemporary Art. It is organized by UCR ARTSblock and is curated by Jennifer Frias, Curator, Culver Center of the Arts + Sweeney Art Gallery. Support provided by UCR's College of Humanities, Arts, and Social Sciences (CHASS), and the City of Riverside.