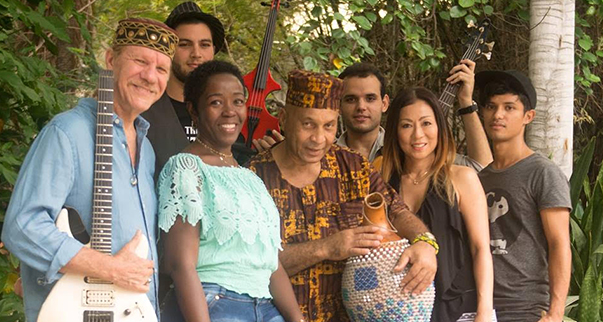 Pablo Menéndez & Mezcla: "The Sounds of Cuba Today"
Encuentro Cubano Concert
Culver Center of the Arts
| | |
| --- | --- |
| Performance | Thursday, April 25, 2019, 7:30pm - 8:30pm |
Department of Music and UCR ARTS present:
Pablo Menéndez & Mezcla:  "The Sounds Of Cuba Today"

Encuentro Cubano Concert
Center for Iberian and Latin American Music
Walter A. Clark, director
Under the direction of guitarist Pablo Menendez, Mezcla has been a part of the sound-track of the Cuban music scene for the past thirty years. Mezcla brings together several veteran masters with some the best of young players on the scene today. When at home in Cuba they perform regularly at Havana's premier jazz club La Zorra y el Cuervo and at the annual Havana Jazz Festival (Jazz Plaza). Mezcla's music is a genuine celebration of the culture and musical roots of the Pearl of the Antilles. A ray of Havana sunshine that inspired Carlos Santana to call them "the cleanest, freshest water I have ever tasted!" They have issued nine recordings. Their legendary 1993 release "Cantos"–re-released in 2014–featured the late Lázaro Ros, one of Cuba's foremost singers of Afro-Cuban Yoruba santería chants. Their CD "Akimba!," was pre-nominated for a Latin Grammy in 2002 and their 2010 release, "I'll See You in C-U-B-A," (ZOHO), was nominated for the Best of Latin Jazz Awards as were several of the group's soloists. In 2014 Mezcla released live concert DVD "Pablo Menendez & Mezcla Todos Estrellas del Jazz Cubano" (Colibri) and in February of 2015 they released the CD "Pure Mezcla" recorded live at Yoshi's jazz club in Oakland California during their 2013 U.S. tour. Mezcla's animated videoclip "See you in C.U.B.A.", created by Juan Padrón and Ernesto Padrón was a finalist in the prestigious Lucas Awards in 2016. 
Free admission!
Public parking available         
Information: (951) 827-3245 performingarts@ucr.edu  www.music.ucr.edu
Support has been provided by UCR College of Humanities, Arts, and Social Sciences and the City of Riverside