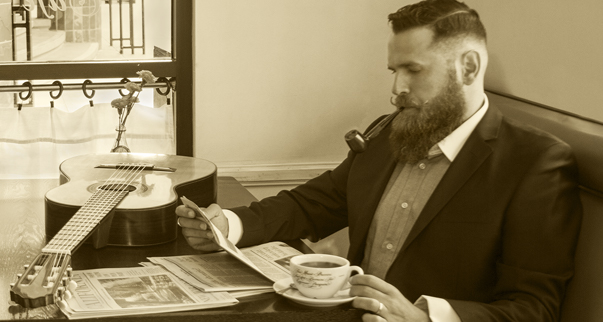 Flávio Apro - Brazilian and Intercontinental Dialogues
Culver Center of the Arts
Free Admission!
| | |
| --- | --- |
| Performance | Tuesday, April 10, 2018, 7pm |
BRAZILIAN AND INTERCONTINENTAL DIALOGUES    
The idea behind this program is to show the versatility of the guitar as well as highlight some multicultural relationships between the musical traditions from many countries, namely Brazil, Italy, USA, Mexico, France and Spain. These connections are given both from the compositions, the composers or the performer.   
The program starts with Apro himself as a composer with his intimate and meditative
Portrait
, a piece that combines both polyphony and romantic harmony. It is followed by the famous Villa-Lobos, whose collection of
Studies
deals with the guitar technical difficulties with a pleasant sonority for the audience;
#3
explores hammer-ons and pull-offs, while
#7
combines several features such as scales, arpeggios, trills and chords. Anibal Sardinha (Garoto) is considered the father of
bossa nova
for having combined the American jazz harmony with Brazilian rhythm, as perfectly shown in this Improviso. Mignone, like Villa-Lobos, also wrote a collection of
Studies
;
#3
is a kind of dialogue between low and high pitches, along with melting several Brazilian genres like the chorinho, country and samba. Caymmi is a Brazilian popular composer who immigrated to California, which piece 
Porto
 is a good example of his keen ability to describe Brazil's shore landscapes.
Homenagem
by Altro is a furious virtuoso piece creating the illusion of two guitars, and is a tribute to all guitarists.   
The second part of the program shows interesting dialogues between cultures and nationalities. It starts with
Ballata Scosseze
by the Italian composer Mario Castelnuovo-Tedesco (who also immigrated to CA), a skillful composition puts together Händelian and Celtic traditions, especially with the inner sections imitating the bagpipe. An interesting connection can be drawn between Ponce and France, where he studied composition in the 1920's and made him able to combine Mexican melodies with impressionistic harmonies, as in the fourth movement of his
Sonata Mexicana
.
Madroños
and
Contradanza
by Torroba shows the inborn character of the guitar to emulate flamenco music. Apro will close this concert with a couple of elegant short pieces by the French composer Napoleon Coste in the best 19th-century salon-style.   May the listener enjoy this wonderful trip through time and cultures. 
PART I          BRAZILIAN DIALOGUES 
Flávio Apro —
Portrait
(1995) 
Heitor Villa-Lobos —
Two Studies #3 and #7
(from 12 Studies, 1929) 
Garoto  —
Improviso
(1949) Francisco 
Mignone —
Study #11
(from 12 Studies, 1970) 
Dori Caymmi —
Porto
(1975, arranged by F. Apro) 
Rafael Altro —
Homenagem
(2001)   
PART II        INTERCONTINENTAL DIALOGUES    
Mario Castelnuovo-Tedesco —
Ballata Scozzese
(from Suite Op.133, 1947) 
Manuel Ponce —
Allegro in A
(from Sonata Mexicana, 1925) 
Federico Torroba —
Madroños
(1954) &
Contradanza
(1968) 
Napoleon Coste —
Two Studies #6
and
#2
(from 25 Studies Op.38, 1873)   
FLÁVIO APRO
is recognized for his work as guitarist, producer, researcher, and teacher. He holds a Master degree from UNESP and a Ph.D. from the São Paulo University and was one of the few disciples of the famous Argentinean Adolfina Raitzin, from whom he inherited the Tárrega-Segovia style. Apro is one of the most recognized Brazilian researchers on Musical Performance, with published books and several articles in leading academic journals. In connection with his research, he released the CD "Francisco Mignone - Doce Estudios Para Guitarra", in Mexico. He performs regularly at the main Brazilian and international concert halls. Apro is also a producer and South American representative of HERMANN HAUSER GUITAR FOUNDATION, a non-profit cultural institution based in Germany, organizing concerts and international competitions. His activity as a teacher is widely respected as the guitar chair of MARINGA STATE UNIVERSITY and visiting researcher at CALIFORNIA STATE UNIVERSITY FULLERTON, besides being a guest in several Brazilian and foreign institutions, teaching in Portuguese, English, Spanish, German, Italian and Hungarian languages. The Brazilian guitarist released several CDs for the prestigious label Brilliant Classics in Netherlands, such as "Flavio Apro Plays Napoleon Coste", "Nocturne" and "The Brazilian Guitar", as well as "The Brazilian Guitar" sponsored by the Brazilian Ministry of Culture, all of these available in the international market. Flávio Apro uses Augustine Strings on a Sérgio Abreu guitar.
In collaboration with the UCR Music Department, the Center for Iberian and Latin American Music (CILAM) and the Latin American Studies Program