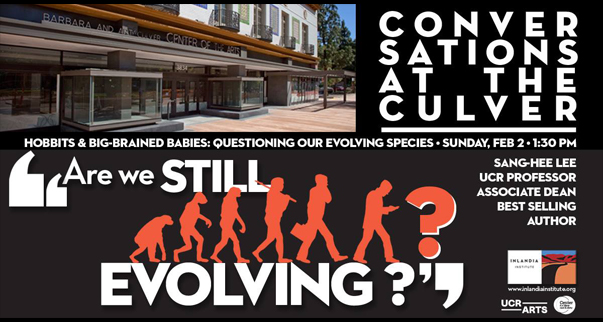 Inlandia Institute's Conversations at the Culver Presents Hobbits & Big-Brained Babies
Culver Center of the Arts
Free Admission!
| | |
| --- | --- |
| Reading and Discussion | Sunday, February 2, 2020, 1:30pm - 3:00pm |
Inlandia Institute proudly presents Sang-Hee Lee in conversation about evolution of humans and self-evolution with her best selling book, Close Encounters with Humankind, Sunday, February 2, 1:30 pm at the Culver Center.
When and where did our earliest ancestors first appear? When did we first walk upright? How did we become meat eaters? Are we still evolving? Lee explores our biggest evolutionary questions, and takes us along unexpected paths in our pursuit for answers.
Her curious nature and surprising conclusions make Close Encounters with Humankind a must-see illuminating delight!
This event is free and open to the public, followed by light refreshments and book sales. In partnership with UCR Arts and the UCR Center for Ideas and Society.
Sang-Hee Lee is an anthropologist, specializing in human evolution. She is Professor in Anthropology and the Associate Dean in the College of Humanities, Arts, and Social Sciences, University of California at Riverside. She wrote a best-selling and award-winning book in Korea with Shin-Young Yoon and translated it into English, Close Encounters with Humankind: A Paleoanthropologist Investigates Our Evolving Species. The book is now in Spanish, Japanese, Traditional Chinese, Simplified Chinese, and Greek. Portuguese and Russian translations in progress.