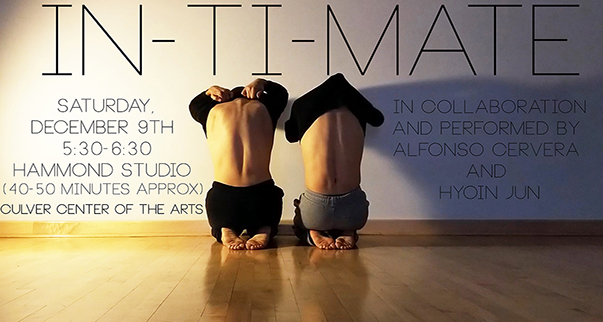 IN-TI-MATE
Culver Center of the Arts
Free admission. Seating is limited.
| | |
| --- | --- |
| IN-TI-MATE | Saturday, December 9, 2017, 5:30pm - 6:30pm |
In-Ti-Mate is a collaborative dance duet performed by Alfonso Cervera and Hyoin Jun who explore what and how "intimacy" can be developed, shared, and experienced. Using a series of improvisational structures exploring touch and trust, the dancers revel in these concepts as a means to unravel expectations of identity by sensing and experiencing the labor of creating an occasion for each other and audience. 

This is a work-in progress and doors will open at 5:10 and seating is limited. 

Poster design: Irvin Gonzalez
Music: Pleq
Support has been provided by UCR College of Humanities, Arts and Social Sciences (CHASS) and the City of Riverside.