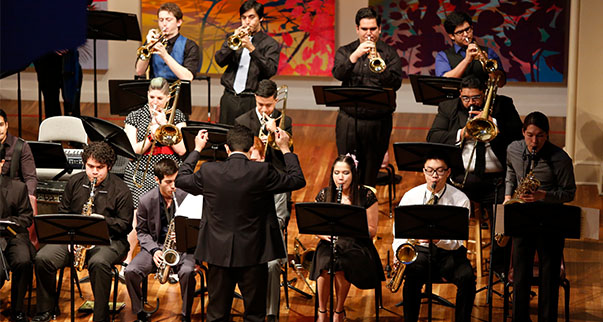 UCR Jazz Ensembles
Culver Center of the Arts
| | |
| --- | --- |
| Performance | Thursday, May 24, 2018, 7:00pm - 8:30pm |
Joshua Welchez, conductor    
Featuring Big Band music and jazz improvisation.
Teryn Re, local Los Angeles area vocalist, composer/arranger, and bandleader comes to UC Riverside to join the Jazz Ensemble and Jazz Combo in a special performance. Ms. Re will sing through a showcase of her arrangements of the music of Duke Ellington, Nancy Wilson, Claude Debussy, and others while conducting the UCR Jazz Ensemble.
Free and open to the public.

Public parking available    
Information: (951) 827-3245  performingarts@ucr.edu  www.music.ucr.edu 
Support has been provided by UCR College of Humanities, Arts, and Social Sciences and the City of Riverside.