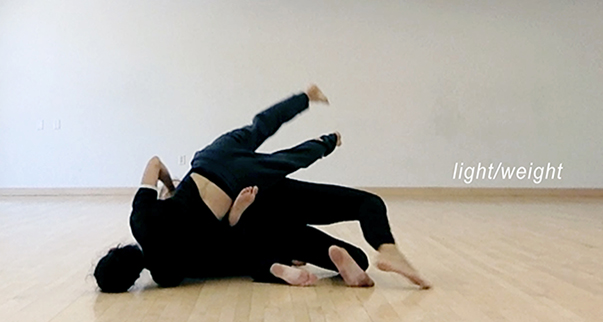 light/weight
Culver Center of the Arts
Free Admission. Seating is limited. Please be advised that there is ample amount of standing room
| | |
| --- | --- |
| light/weight | Tuesday, November 15, 2016, 8:00pm - 9:30pm |
softening deeply
sinking towards
floating still
listening quietly
falling barely
resisting compassionately
melting sideways
rushing patiently
light/weight is an evening-length dance performance that unfolds through a series of improvisational structures, each exploring the possibilities of three people practicing togetherness. light/weight reveals and conceals the labor of effortlessness through sometimes rigorous and/or intimate physical contact. Identity forms and unravels through the politics of difference, and meaning is made through the sharing of space, flesh and sweat.
40-50 minutes in length, light/weight is a new dance as practice as performance as research and thus a work in progress. 
Created and Directed by: Joel Smith in collaboration with Hyoin Jun and Maggie Sniffen
Performed by: Hyoin Jun, Joel Smith and Maggie Sniffen
Joel Smith is an Associate Professor of Dance at UC Riverside. His research on gender and queer representation lives in his work as a choreographer, director and writer. He is currently Co-Artistic director of casebolt and smith, a contemporary dance/theater duet company, with artistic pertness Liz Casebolt. Through collaboration and a shared interest in creating meta-theatrical dances that blend improvisational structures, speaking, singing, gesture, and contemporary movement vocabularies, their work illuminates gender and sexuality politics represented in male/female partnerships, and comments on the sometimes overly serious traditions of modern dance. They are known for playing between chatty and scripted conversation, with each other and the audience, while offering honest insights into their choreographic methods and collaborative rapport. The press often describes their work as smart, playful, humorous and accessible. Aside from his work with casebolt and smith, Joel has extensive commercial credits including dancing for pop artist Ricky Martin and Thalia as well as appearing on film and television including two national commercials for Hummer and Dr. Pepper. He was named one of "LA's Finest" contemporary male dancers by Dance Spirit Magazine and is frequently commissioned to make dances for students at various colleges and universities. Joel Smith received an MFA for Experimental Choreography from UC Riverside in 2004 and a BA in Studio Art and Theater Design from UC Davis in 2000. Joel has been on the faculties at Scripps College, UCLA, El Camino College, Rio Hondo College and Cerritos College.
Hyoin Jun is currently studying Experimental Choreography at University of California, Riverside, having been awarded the Dean's Distinguished Fellowship Award. Previously, Jun graduated from Chung-Ang University (CAU), Korea, receiving his MA in Physical Education from the Department of Dance in 2014 and a BA in Dance in 2012. Jun has been actively involved in international competitions during his studies, winning: Jury Award, Sibiu International Dance Competition, Romania (2011), Bronze Medal, Novosibirsk, International Dance Competition, Russia (2010), and Gold Medal, berlin International Dance Competition TANZOLYMP, Germany (2010). Furthermore, Jun has performed on both international and local stages, such as the 2014 Sochi Winter Olympic Closing Ceremony on behalf of Korea National Contemporary Dance Company, at the Olympic Stadium, Sochi, Russia. He also choreographed and performed B.C. (Before Christ) in Korea in 2015. Finally, he has experienced in teaching as a part time instructor in CAU as well as at Anyang Art High School Dance Department.
Maggie Sniffen is a second-year MFA student in Experimental Choreography at the University of California, Riverside. Her research interests lie in the physicality of women in comedy and the potential for comedy to shame culture. Sniffed is a frequent guest choreographer for the Modesto Junior College Dance Department, and prior to her studies at UC Riverside was a dance practitioner in the Stanislaus County area. Sniffed is a recipient of the Gluck Foundation Fellowship and is the graduate student leader for the Gluck Contemporary Dance Ensemble. Along with her fellow choreographers, Alfonso Cervera, Irvin Gonzalez, and Hyoin Jun, Sniffen received the award for Outstanding Choreography at the American College Dance Association's National Festival in Washington D.C. in June 2016 for their original work fourtold.
Support has been provided by UCR College of Humanities, Arts and Social Sciences (CHASS) and the City of Riverside.