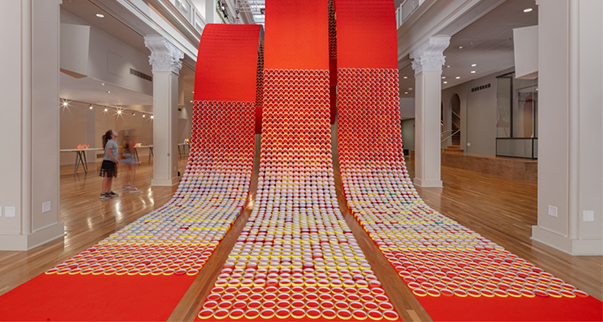 Sound Performance at Red Carpet in C
Culver Center of the Arts
| | |
| --- | --- |
| Performance | Saturday, December 15, 2018, 7:00pm - 8:30pm |
Free and open to the public!
The Culver Center for the Arts is pleased to announce an evening sound event in conjunction with the current exhibition, Red Carpet in C. Collaborators, artist Yunhee Min and architect Peter Tolkin (TOLO Architecture) have invited two groupings of composer/performers to perform in and around their large-scale installation that fills the Culver's historic atrium.
Untitled Second Meeting 
An improvised performance by Susie Kozawa & Angela Frances Wilson.

Susie Kozawa - found object instruments
Ang Wilson - modular synth & acoustic instruments
Lines Transpire and Blur 
Composed by Erika Bell in collaboration with Andrew Young and Eric Heep.

Instrumentation: two ebow electric guitars and pre-recorded audio played live (computer).
About the performers:
Susie Kozawa, a sound artist, composer and performer, works mostly with sound collages and site-specific installations, in which the gathering of sounds is a primary activity. She explores different acoustic spaces using musical instruments she makes out of found objects, kelp, modified toys and human voice.
Angela Frances Wilson is an interdisciplinary artist, and composer working in Los Angeles. Her practice is built at the intersection of healing art, and experimental music. Using digital and analog mediums, they investigate modes of perception, and the impact of uncertain hybrid space. Ang's lowercase sound composition blurs the lines between ambient, noise, field recording, and New Age to explore liminal sonic space as an expansion of self and reality.
Erika Bell is a Los Angeles-based composer drawn to intuition, preference, and the personal. The combination of these things filtered through her compositional process often result in works that are spacious, textural, and melancholy. Her work is lightly focused on textural construction, irregular ensemble groupings, and a structure-based approach.  
Andrew Young enjoys drinking coffee, playing with computers, and experimenting with sound and image. His most recent musical practices explore the sensation of noise in recorded media. 
Eric Heep is a performer and composer in Los Angeles. His work generally includes incorporating existing technology in novel ways, coding, and experimental and procedural sound. In his work, he strives to expose the processes and form of natural phenomena. 
About Red Carpet in C:
Music, primarily a medium of time, is usually played in a space, while architecture, primarily a medium of space, embodies time through the activities of its inhabitants. Goethe described this relationship as "Music is liquid architecture; Architecture is frozen music." Red Carpet in C, a collaboration between the artist Yunhee Min and TOLO Architecture, is conceived as performative architecture; a translation of music into three-dimensional architectural form. Constructed of fabric and paper tubes, its soft, undulating parabolic shape is set in visual relief against the classical proportions, meter, and time signature of the museum's historic atrium.
Performance dedicated in memory of Yunhee Min's mother, Pyongok Choe.