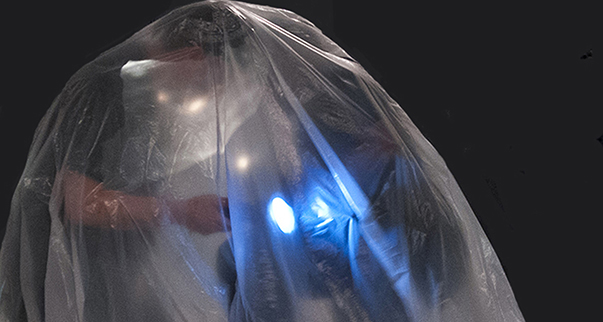 Transceiver
Performance Killed the Video Star (Performance Series)
Culver Center of the Arts
Admission is free to the public
| | |
| --- | --- |
| Culver Center Black Box Studio | Saturday, January 30, 2016, 5pm - 6pm |
Transceiver is a collaborative performance by artists D. Hill and Takeshi Kanemura. The performance is a response to the revolutionary changes in the 1980s music scene particularly the cultural exchange between the United States and overseas. Hill and Kanemura transforms the Culver Center's Black Box Studio into an interactive environment to explore the shifting power between art makers and consumers. Utilizing a set of gestures and audio compositions, the artists introduce and integrate their viewers into simulated club cultures in the US and in Japan.

ABOUT THE ARTISTS
D Hill received an MFA in Creative Photography from California State University, Fullerton. His work has been exhibited at venues such as Grand Central Art Center (Santa Ana, CA), Orange County Center for Contemporary Art (Santa Ana, CA), dA Center for the Arts (Pomona, CA), LA Phantom Galleries (Long Beach, CA), Lift Gallery (Greensboro, North Carolina), For Your Art Gallery (Los Angles, CA) and Tarrant County College (Dallas, TX). He lives and works in Orange County, California.

Takeshi Kanemura received an MFA in Studio Art from Claremont Graduate University. His work has been exhibited at venues such as Nagasaki Prefectural Art Museum (Nagasaki, Japan), Glasio Bluo (Tokyo, Japan), Groundspace Project Gallery (Los Angeles, CA), Flag Stop (Torrance, CA), the dA (Pomona, CA) and Robert and Frances Fullerton Museum of Art, Dutton Family Gallery, Cal State San Bernardino (San Bernardino, CA). He lives and works in Tokyo, Japan and Los Angeles, California.

Transceiver is part of the series, Performance Killed the Video Star in conjunction with the exhibition SECOND WAVE: Aesthetic of the 80s in Today's Contemporary Art. It is organized by UCR ARTSblock and is curated by Jennifer Frias, Curator, Culver Center of the Arts + Sweeney Art Gallery. Support provided by UCR's College of Humanities, Arts, and Social Sciences (CHASS), and the City of Riverside.